Virgin Media FTTH – Chatteris
Updated 12 Jan 18 – To map of Virgin Media Street Cabinets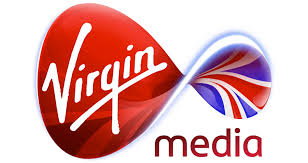 As part of Connecting Cambridgeshire Virgin Media and BT are rolling out super fast broadband.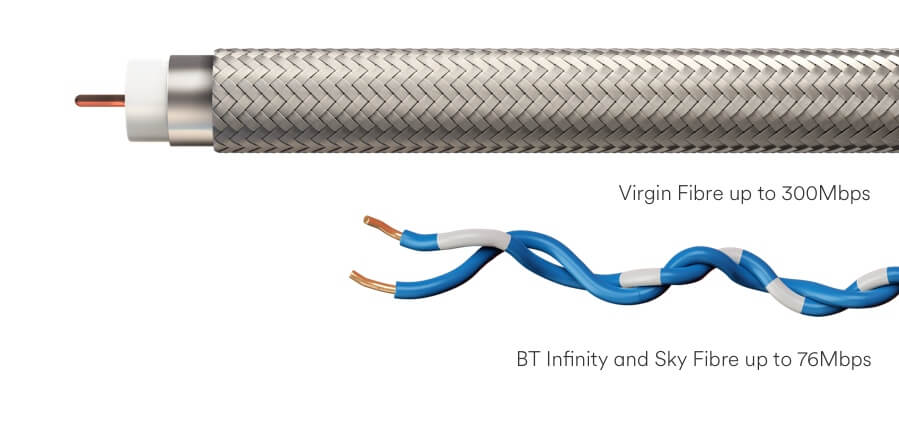 Phased civils started in June 2017 and by 12 January 2018 first subscriber activated.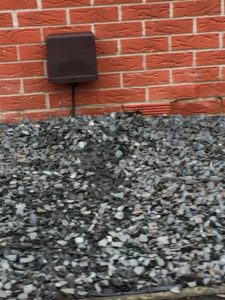 Virgin Media to Chatteris
I currently use TalkTalk Fibre to the Cabinet, this the same as BT Infinity, SKY, Plusnet etc, this means a fibre optic cable is brought from the local exchange to a street cabinet, from this the existing telephone copper cable is used for  broadband and phone, depending how close you are to the cabinet will determine how fast your broadband is, in may case, I get a maximum speed of 62.79Mbps download, 17.34Mbps Upload and a Ping time of 17.34ms which is probably the best I can get (using Speedtest 15/11/17 @ 18:00).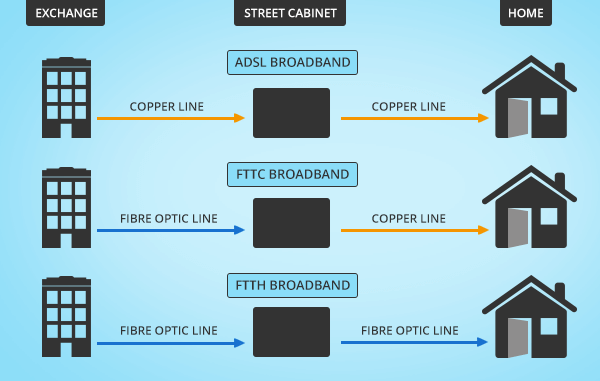 I was delighted when I saw that the Virgin Media cable enabling works was scheduled for installation  via Roadworks.org, bringing up to 300Mb speeds to Chatteris, so I thought I'd start this blog.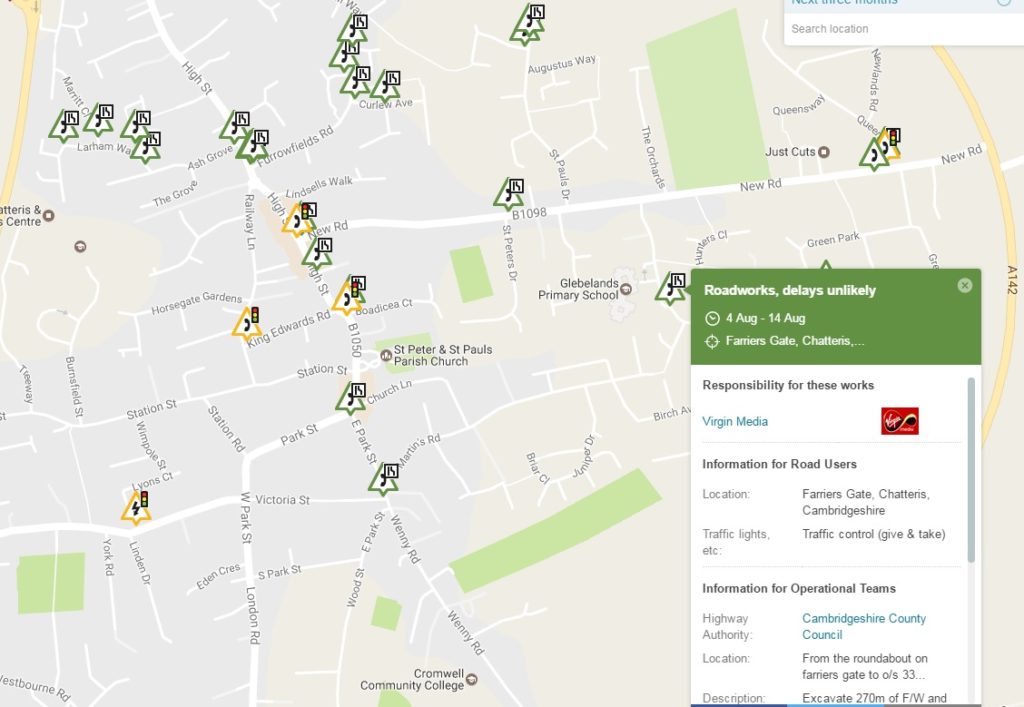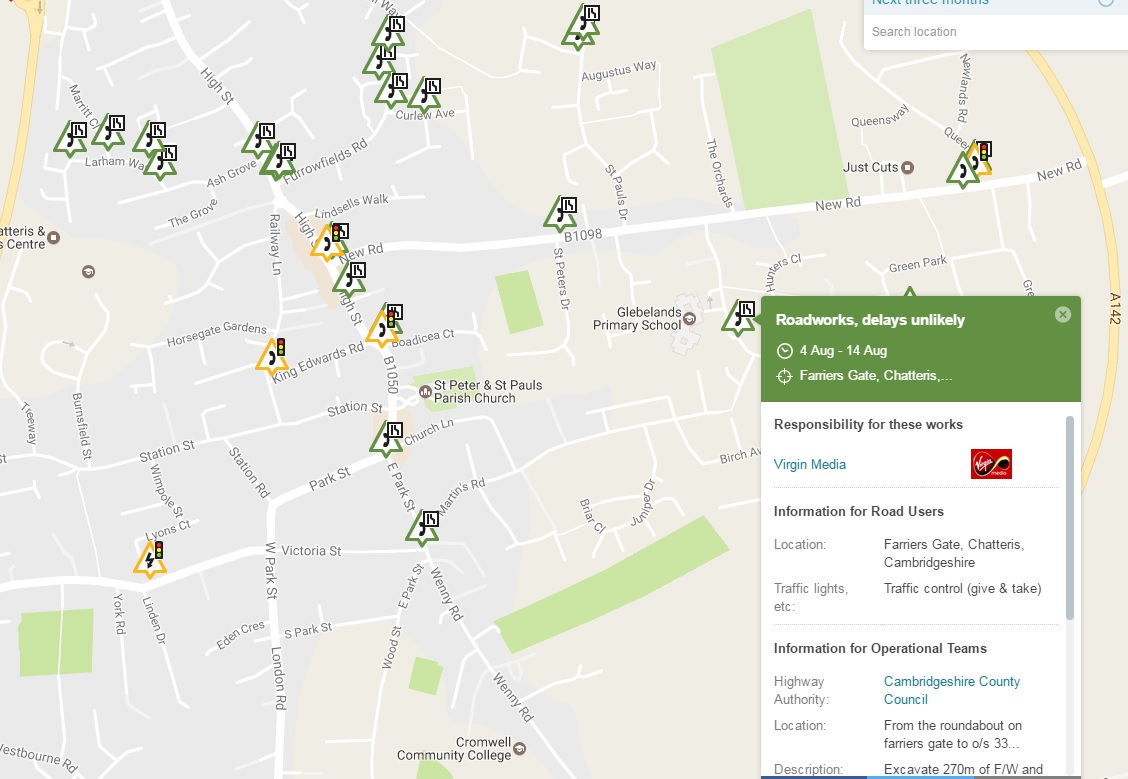 The infrastructure in my area was due to start on 4 August 17, expecting to last until the 14 August and I registered my interest in advance  using Cable My Street.
Timeline of my installation:
June 17,  Virgin Media (VM) started FTTH works in Chatteris.
23 October 17, VM started trenching in Farriers Gate outside Glebelands school.
24 October 17 , Letter pushed through the door from VM
25 October 17, Trenching and Toby installed.
26 October 17, Trench tarmacked and construction barriers removed.
5 November 17, I buried 20mm conduit from Toby to house wall and included a draw cord.
The infrastructure work was carried out very swiftly and with minimal mess considering the civil work required, the works was undertaken during school holidays to minimise any disruption, the crew were respectful of any request to get on and off the drive, also in my case I wanted the  'Toby' to be in a particular position, this wasn't a problem and on the pictures below you can see the original point marking has been crossed out, and the new position marked as a red box.
Time lapse video of Virgin Media installing FTTH infrastructure.
The latest update on advance planning is: FEN 16 – 31 Jan
Details on how the Virgin Media infrastructure is installed (for developers but a great resource) is HERE (large file) and a general guide used for another town scheme is HERE.
The system we are getting from Virgin uses RF over Glass, with the infrastructure being installed by John Henry Group. This comprises of a fibre optic cable laid in a trench which is blown through a microduct tube from the nearest cabinet to the home after your order is placed.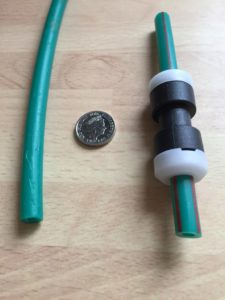 The image above shows the two sort of microduct which are being installed, It looks like the plain green microduct is used from the street cabinet to each properties termination points in the pavement,  with the striped microduct being used to carry fibre from L3 cabinet to L4 cabinet or VHUB data to L3/L4 cabinets.
The image below shows the microduct couplings in use within a pavement trench. Top picture taken at the junction of Dock Road and Bridges Street, bottom picture taken by the library shows a larger 16mm OD striped microduct, I think this takes multicore fibre optical cables from the hub to the L3 cabinets.
| | |
| --- | --- |
| Larger size microduct and coupling, (possibly for a multicore fibre, rather than a single fibre?). | |
Standards for reinstatement can be found HERE.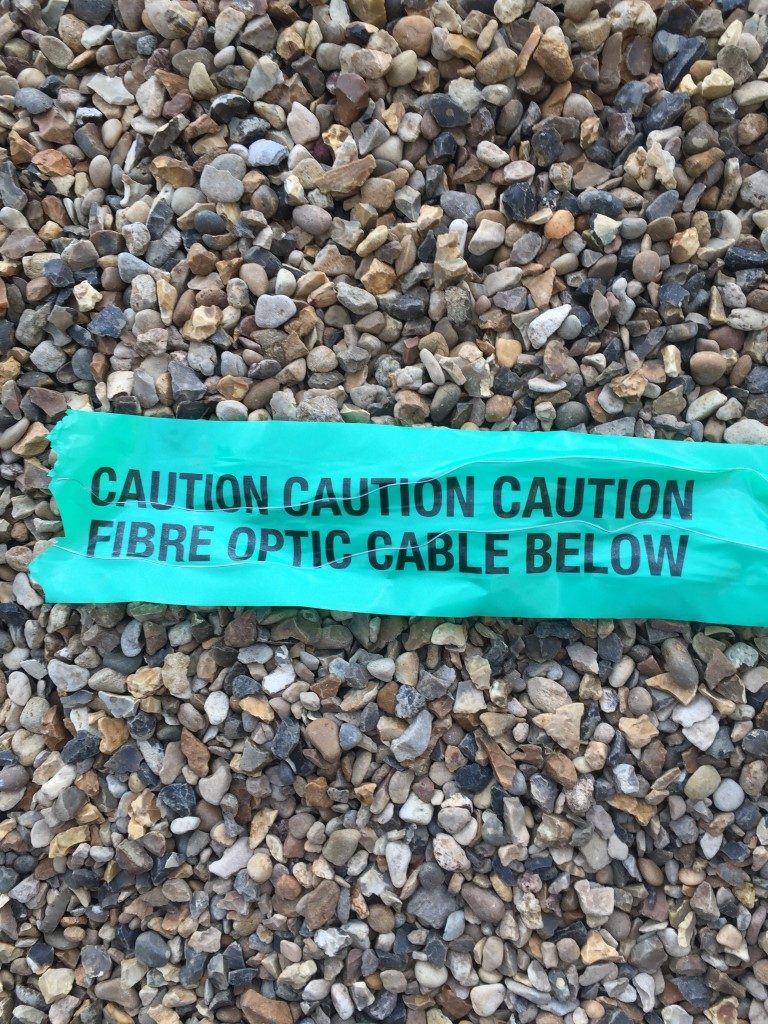 The marker tape which is put over the buried Virgin Media infrastructure and serves two purposes, the first is to allow detection using a Cable Avoidance Tool (CAT), the marker tape has two metal wires bonded to it, so the route of the tape can be found and traced from the surface without excavation, the second purpose is to warn that you are about to unearth or hit cables should you be digging.
VMSDI Level 4 Open Cabinet Picture – undergoing second-fix.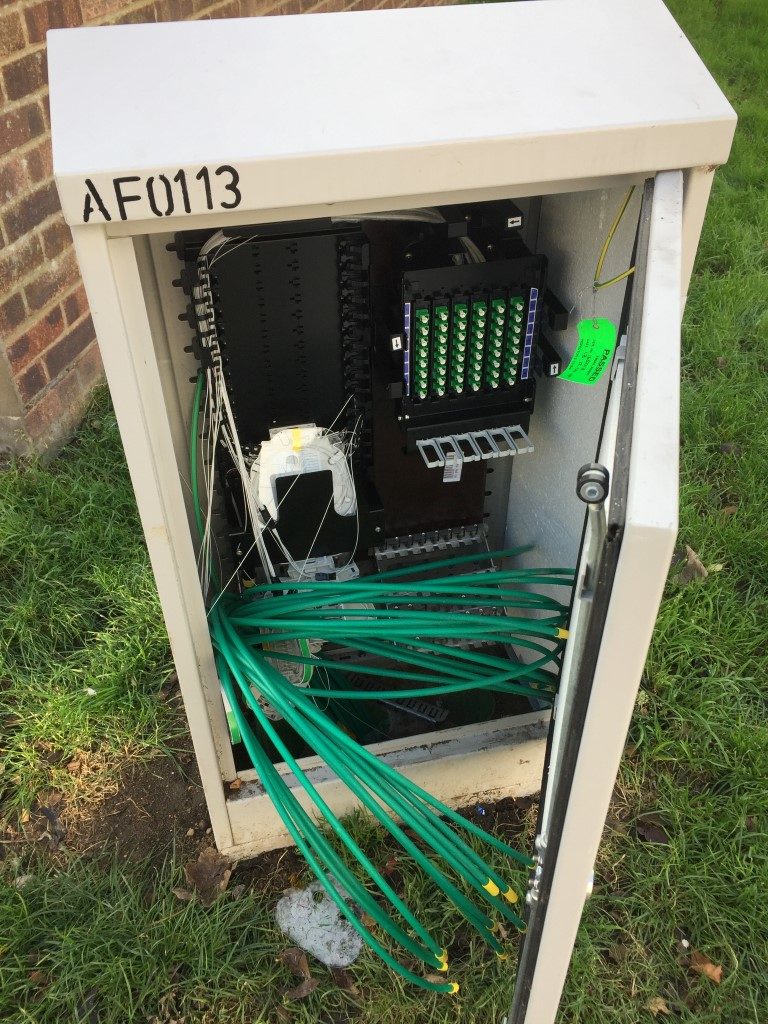 Click Map Pin on the corner of Ash Grove and High Street for more images of cabinet AF0113.
One of the towns two VMVH1 Nodal Cabinets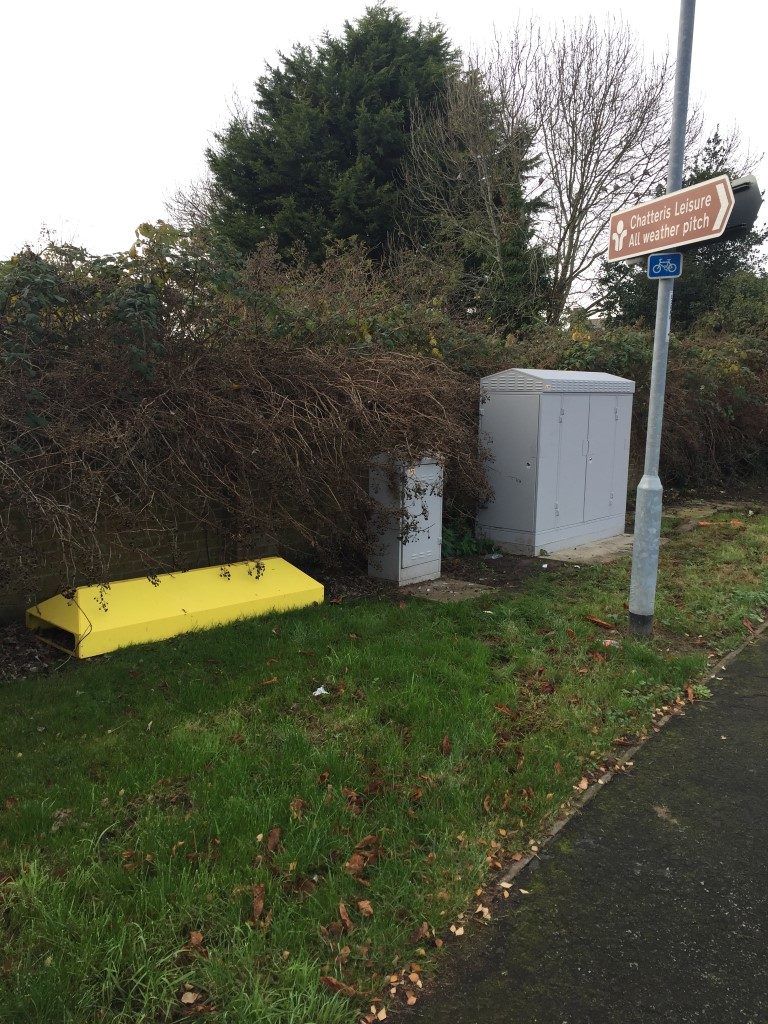 Inside VMVH1 supply pillar:-
Within the distribution board above is a smart RCD from Tii-Tech which is rather clever as it performs regular operational self tests to avoid the need for a person to visit the cabinet to do them. This write up from Gewiss explains how they work.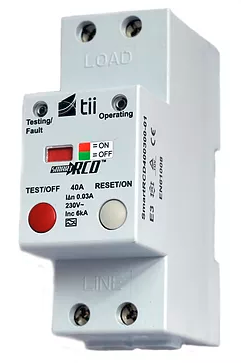 End of Line Termination Boxes
| | | | |
| --- | --- | --- | --- |
| TOBY for use on footpaths, contains one microduct. | Highway installed termination box (contains more than one microduct). | Highway installed termination box (contains one microduct). | Highway installed termination box (contains one microduct). |
From the street termination box, a microduct coupling is used to extend the duct from the street cabinet to your outside wall, the fibre once blown through is connected to a media converter within the externally mounted Omnibox
The  media converter changes the fibres optical pulses of light into electrical data which a coaxial cable then takes to the Super Hub 3 Router and connectivity to the internet.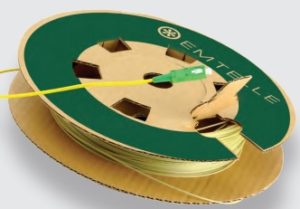 This configuration will give data transfer speeds of up to 300Mbps, a basic outline of how it connects together is below –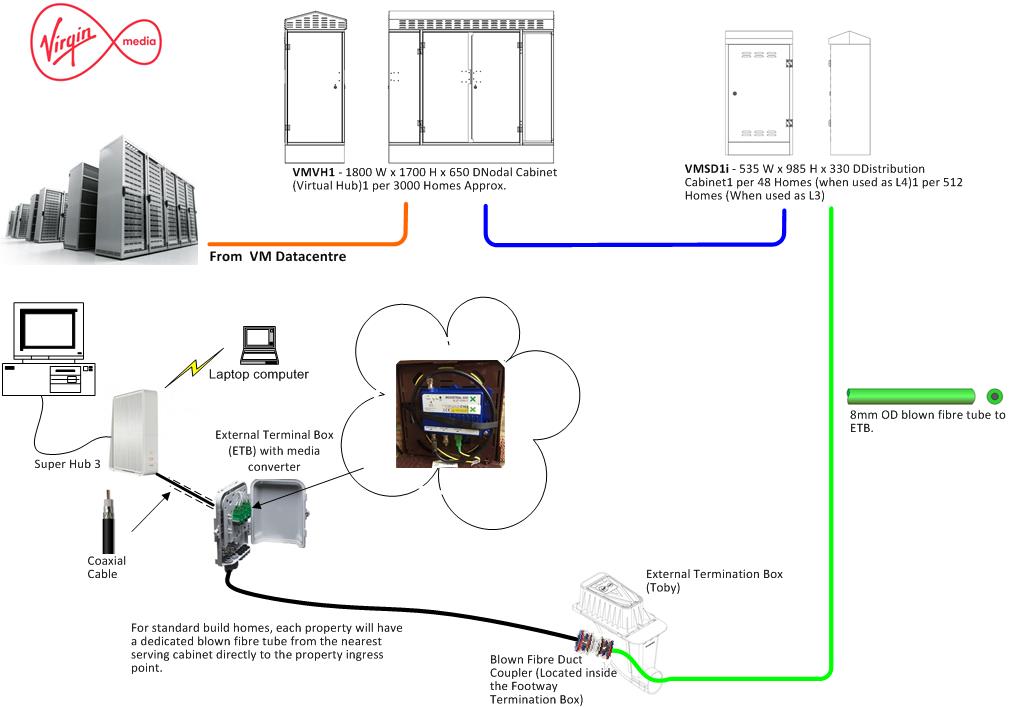 In advance of Virgin installing the infrastructure in the street I have put a conduit through the wall into a dry lining box with a blank please and installed a length of 20mm flexible conduit from the pavement Toby to the house wall, bit premature, but hey ho :-)
Links to latest and archived Planning Permissions:
2017 –
2018 –
Project Lightning Chatteris Roll Out Map:      
The Pin map shows the position of street cabinets:
GREEN

pins are completed Street Cabinets (identifier stenciled on cabinet);

RED

pins are installed Street Cabinets;

PURPLE

pins are Main Node locations;
WHITE pins are work in progress.
Clicking on the pins will show the latest images I have.
Title
Category
Address
Description
St Francis Drive
Cabinet
52.45656719921685, 0.05488474387675524

St Francis Drive

Blackmill Road
To Photograph
52.44510398114509,0.04354233155027032

Blackmill Road

Church Walk
Cabinet
52.45364519958683,0.05185750429518521

Church Walk

Pound Road
Cabinet
52.46163833844426,0.045072531793266535

Pound Road

Station Street
Cabinet
52.45376054988989,0.0439473451115191

Station Street

South Park Street
Cabinet
52.45162974492057,0.04827716387808323

South Park Street

Queensway
Cabinet
52.457581943678406,0.06257126340642571

 

Queensway

Marion Way
Cabinet
52.44532573448797,0.04649211186915636

Marian Way

Eastwood
Cabinet
52.44674614533316,0.04998045042157173

Eastwood

Eastwood
Cabinet
52.44824921842216,0.05029016174376011

Eastwood

New Road - Middle
Cabinet
52.45731413104696,0.06130327004939318

 

New Road

New Road - Top
Cabinet
52.45742573048203,0.06275036372244358

New Road

Cricketers Way
Cabinet
52.44875722580955,0.05703282658942044

Cricketers Way

Cricketers Way
Cabinet
52.44843979371819,0.05873972782865167

Cricketers Way

Eastbourne Road
Cabinet
52.44584375064751,0.04618296632543206

Eastbourne Road

Whitemill Road
Cabinet
52.447006333601905,0.046714735217392445

Whitemill Road

Fairway
To Photograph
52.44943883820207,0.042991829104721546

Fairway

Westbourne Road
Cabinet
52.45006387762218,0.041541403625160456

Westbourne Road

Westbourne Road
Cabinet
52.44986065330227,0.04327309434302151

Westbourne Road

Haigh's Close
Cabinet
52.4535684907657,0.042545890901237726

Haigh's Close

London Road
Cabinet
52.45021753721562,0.04770914325490594

London Road

Eden Crecent
Cabinet
52.45171801438014,0.04737057723104954

Eden Crescent

The Elms
Cabinet
52.45336662346431,0.05824083695188165

The Elms

The Elms
Cabinet
52.45384623557197,0.0606475118547678

The Elms

AF0304 Slade Way
Finished Cabinet
52.45833235687413,0.047755432315170765

Slade Way

AF0302 & AF0303 Slade Way
Finished Cabinet
52.4582424662961,0.04716802854090929

Slade Way

Southampton Place
Cabinet
52.4482370855346,0.0455003441311419

Southampton Place

Southampton Place
Cabinet
52.44897189826159,0.045289790723472834

Southampton Place

Wood Street
Cabinet
52.44892040455444,0.04923666128888726

 

Wood Street

Wenny Road
Cabinet
52.449197489030865,0.054739213082939386

Wenny Road

Farriers Gate
Cabinet
52.454876110793315,0.06032089004293084

Farriers Gate

AF0501 - St Peters Drive
Finished Cabinet
52.45625338600299, 0.053717982955276966

St Peters Drive

AF03 High Street
Finished Cabinet
52.45652937728379,0.04874849924817681

 

High Street

AF0311 Wesley Drive
Finished Cabinet
52.45801015448342,0.05575979361310601

Wesley Drive

Highway termination box

Eastwood
Cabinet
52.44861879734661,0.050019866321235895

Eastwood

AF0305 Lindsells Walk
Finished Cabinet
52.4572340448707,0.049254787154495716

Lindsells Walk

Wenny Estate
Cabinet
52.447770362742745,0.055896586272865534

Wenny Estate

Clare Street
Cabinet
52.45310018990083,0.04034245619550347

Clare Street

Green Park
Cabinet
52.45603028306109,0.06079901475459337

Green Park

AF0507 - New Road
Finished Cabinet
52.456626626320876,0.051002895925194025

 

New Road

AF0301 Ravencroft
Finished Cabinet
52.45917055214363,0.046117252204567194

Ravenscroft

AF05 - New Road
Finished Cabinet
52.45672877843942,0.05324254045262933

New Road

Bridle Close
Cabinet
52.45577262533811,0.058989173267036676

Bridle Close

Park Street
To Photograph
52.45388010116374,0.049190414138138294

Park Street

The Hawthorns
Cabinet
52.45679765437155,0.047277999110519886

The Hawthorns

Green Park
Cabinet
52.456531241566196,0.06180484313517809

Green Park

Bridle Close
Cabinet
52.45572649964174,0.05767252296209335

Work commenced 26 Oct 17 completed 3 Nov 17

Bridle Close

Newlands Road
Cabinet
52.45853910450727,0.062362742610275745

Newlands Road

Wenny Road
Cabinet
52.451324427259976,0.05182970780879259

Wenny Road

Linden Drive
Cabinet
52.45215644739025,0.044802320189774036

Linden Drive

AF0307 Curlew Avenue
Finished Cabinet
52.458205335304854,0.05174257792532444

Curlew Avenue

AF0310 Augustus Way
Finished Cabinet
52.458938883645615,0.054393208120018244

Augustus Way

Wenny Road
Cabinet
52.451867121936964,0.05137105006724596

Wenny Road

Saddlers Way
Cabinet
52.45471765332056,0.057400959776714444

Saddlers Way

York Road
Cabinet
52.45081441893827,0.04429270047694445

York Road

New Road
Cabinet
52.45654776472326,0.04891881952062249

New Road

Juniper Drive
Cabinet
52.4532697758677,0.05541110644116998

Juniper Drive

AF0101 & AF0102 Doddington Road
Finished Cabinet
52.46805554397529,0.03911750391125679

Doddington Road

AF0103 Doddington Road
Finished Cabinet
52.465405812381725,0.04259088076651096

Doddington Road

AF0308 Mallard Close
Finished Cabinet
52.4582530897376,0.05069245118647814

Mallard Close

 

The Orchards
Cabinet
52.457115549750924,0.057328236289322376

The Orchards

AF0110 Latham Way
Finished Cabinet
52.457632839896824,0.043042791076004505

Latham Way

AF0109 Marritt Close
Finished Cabinet
52.45874631083253, 0.04325070418417454

Marritt Close

AF0111 Quaker Way
Finished Cabinet
52.45782779255462,0.04492976702749729

Quaker Way

AF0112 Ash Grove
Finished Cabinet
52.4576325845221,0.0467403419315815

Ash Grove

AF0607 Horsegate Gardens
Finished Cabinet
52.455337829300376,0.044648218899965286

Horsegate Gardens

AF0603 Horsegate Gardens
Finished Cabinet
52.45536398103069,0.04503445699810982

Horsegate Gardens

Tithe Road
Cabinet
52.443571448810765,0.048371292650699615

Tithe Road

Tithe Road
Cabinet
52.444176160818074,0.04846768453717232

Tithe Road

Tithe Road
Cabinet
52.44340029275607,0.04709162749350071

Tithe Road

Treeway
Cabinet
52.45411051930238,0.042314864695072174

Treeway

AF0605 Station Street
Finished Cabinet
52.45433935279353,0.047861672937870026

Station Street

Green Park
Cabinet
52.45596454715728,0.06386079825460911

Green Park

Huntingdon Road
Cabinet
52.4520640412153,0.04118833690881729

Huntingdon Road

Huntingdon Road
Cabinet
52.4522078862328,0.04434261471033096

Huntingdon Road

AF0601 Horsegate Gardens
Finished Cabinet
52.455552661218405,0.047440314665436745

Horsegate Gardens

AF0206 - Gull Way
Finished Cabinet
52.46061546495731,0.048162080347537994

Gull Way

 

AF0607 Station Street
Finished Cabinet
52.453881684622154,0.04417095333337784

Station Street

AF0209 Drake Avenue
Finished Cabinet
52.460298922714486,0.0496611837297678

Drake Avenue

AF0104 Bridge Street
Finished Cabinet
52.461956071200554,0.04530527628958225

Bridge Street

AF0203 Lode Way
Finished Cabinet
52.4618248723383,0.04829992074519396

Lode Way

AF02 Lode Way
Finished Cabinet
52.46154868443245,0.04892755765467882

Lode Way

AF0204 Kingfisher Close
Finished Cabinet
52.46205739383792,0.05023517645895481

Kingfisher Close

AF0205 Lode Way
Finished Cabinet
52.461073573853504,0.049655819311738014

Lode Way

AF01 Angoods Lane
Finished Cabinet
52.46030219131336,0.04400172270834446

Angoods Lane

AF0208 Tern Gardens
Finished Cabinet
52.459815167410554,0.04806795157492161

Tern Gardens

 

AF0108 Angoods Lane
Finished Cabinet
52.45954014157026,0.04322249908000231

Angoods Lane

AF0106 Angoods Lane
Finished Cabinet
52.460512555781456, 0.04489619750529528

Angoods Lane

AF0107 Angoods Lane
Finished Cabinet
52.460576752749645,0.04488685168325901

Angoods lane

AF0202 Dock Road
Finished Cabinet
52.4618248723383,0.045861792750656605

Dock Road

AF0201 Bridge Street
Finished Cabinet
52.46119078155108,0.045134914107620716

Bridge Street

AF0207 Black Horse Lane
Finished Cabinet
52.46029356016901,0.045218062587082386

Background

The cabinet backs onto a Grade 2 listed house and a black one was requested as it matches the surrounds a lot better than a grey one.  A point to note is that the ground level in the house is lower than the pavement. The contractors started digging up in front of one of the windows put a grey cabinet and it was a foot above the bottom of the window and as the house is lower inside when you looked out the top of the cabinet was eye height. The owners asked if they could move it down the street more which they did but then backfield the hole they dug with hardcore they took out and left it. With have requested several times for last 2/3 months if it can be re-tarmac to stop water running into the house which is going to collect there.

12 Nov 17, ground under window not restored.

Black Horse Lane

AF0309 St Stephens Drive
Finished Cabinet
52.45916914763152,0.05403582472354174

St Stephens Drive

 

 

 

 

 

 

Stephen's Drive

AF0210 Gull Way
Finished Cabinet
52.45994218433571,0.04969332832843065

Gull Way

AF0211 Furrowfields Road
Finished Cabinet
52.4591189426775,0.04989990033209324

Furrowfields Road

AF0113 High Street
Finished Cabinet
52.45769979910717,0.04722867161035538

High Street

AF06 & AF0604 Station Street
Finished Cabinet
52.454221667146655,0.046456195414066315

Station Street

 

 

 

 

 

 

East Park Street
Cabinet
52.45278326160457,0.05068335682153702

East Park Street

VMVH1 Nodal Cabinet Eastwood
Main Cabinet
52.44843322921627,0.049964357167482376

VMVH1 – 1800 W x 1700 H x 650 D Nodal Cabinet (Virtual Hub)1 per 3000 homes.

I asked permission of the road workers before I took the picture, the cabinet was unlocked and open.

Cabinet in the locked open position 18 Nov 17

Eastwood

VMVH1 Nodal Cabinet Furrowfields Road
Main Cabinet
52.45850483958044, 0.04997299511160236

Work Commenced 14 May 17

Smaller cabinet is for electrical metering.

Furrowfields Road

AF0312 St Pauls Drive
Finished Cabinet
52.45786374914649,0.05437650717794895

Work commenced 28 Aug 17

St Pauls Drive

AF0313 St Pauls Drive
Finished Cabinet
52.45696809438717,0.054993415251374245

Work commenced 28 Aug 17

St Pauls Drive
| Miles Laid | 35.8 | 57610 |
| --- | --- | --- |
| Road | Start Date | Finish Date |
| Albert Way | 24 Jul 17 | 11-Aug-17 |
| | 10-Oct-17 | 30-Oct-17 |
| Angoods Lane | 05-Jun-17 | 30-Jun-17 |
| Anvil Close | 24-Aug-17 | 07-Sep-17 |
| | 28-Sep-17 | 11-Oct-17 |
| | 19-Oct-17 | 02-Nov-17 |
| | 27-Oct-17 | 10-Nov-17 |
| | 14-Dec-17 | 02-Jan-18 |
| | 19-Dec-17 | 05-Jan-18 |
| | 15-Jan-18 | 29-Jan-18 |
| Ash Grove | 9 Jun 17 | 29 Jul 17 |
| | 20-Jun-17 | 10-Jul-17 |
| Augustus Way | 04-Sep-17 | 12-Sep-17 |
| | 12 Oct 17 | 26 Oct 17 |
| Beckett Way | 1 Sept 17 | 8 Sept 17 |
| | 09-Oct-17 | 23-Oct-17 |
| Birch Avenue | 24-Oct-17 | 13-Nov-17 |
| | 08-Jan-18 | 01-Feb-18 |
| Birch Close | 03-Nov-17 | 16-Nov-17 |
| | 11-Dec-17 | 22-Dec-17 |
| Black Horse Lane | 08-Aug-17 | 21-Aug-17 |
| Blackmill Road | 26-Oct-17 | 08-Nov-17 |
| | 12-Dec-17 | 11-Jan-17 |
| Blackthorn Close | 21-Nov-17 | 29-Nov-17 |
| | 02-Jan-18 | 16-Jan-18 |
| Boadicea Court | 08-Aug-17 | 16-Aug-17 |
| | 10-Oct-17 | 24-Oct-17 |
| | 14-Dec-17 | 02-Jan-18 |
| | 15-Jan-18 | 29-Jan-18 |
| Bridge Street | 28-Jun-17 | 01-Aug-17 |
| | 12-Aug-17 | 18-Sep-17 |
| | 18-Sep-17 | 13-Oct-17 |
| Briar Close | 09-Nov-17 | 15-Nov-17 |
| | 05-Jan-18 | 19-Jan-18 |
| Bridle Close | 01-Sep-17 | 14-Sep-17 |
| | 05-Oct-17 | 19-Oct-17 |
| Burnsfield Estate | 10-Oct-17 | 16-Oct-17 |
| | 10-Oct-17 | 24-Oct-17 |
| | 13-Nov-17 | 20-Nov-17 |
| | 02-Jan-18 | 09-Jan-18 |
| Burnsfield Street | 02-Oct-17 | 13-Oct-17 |
| | 10-Oct-17 | 21-Oct-17 |
| | 23-Oct-17 | 03-Nov-17 |
| | 08-Nov-17 | 21-Nov-17 |
| | 05-Dec-17 | 19-Dec-17 |
| Chantry Close | 08-Sep-17 | 15-Sep-17 |
| | 16-Oct-17 | 30-Oct-17 |
| Chapel Lane | 10-Jul-17 | 21-Jul-17 |
| | 06-Oct-17 | 19-Oct-17 |
| | 24-Nov-17 | 21-Dec-17 |
| | 12-Dec-17 | 11-Jan-18 |
| Church Lane | 30-Oct-17 | 13-Nov-17 |
| | 22-Nov-17 | 06-Dec-17 |
| Church Walk | 02-Oct-17 | 10-Oct-17 |
| | 13-Nov-17 | 27-Nov-17 |
| | 02-Jan-18 | 16-Jan-18 |
| Clare Street | 09-Oct-17 | 23-Oct-17 |
| | 18-Oct-17 | 01-Nov-17 |
| | 11-Dec-17 | 27-Dec-17 |
| Coxs Lane | 08-Jul-17 | 12-Jul-17 |
| | 24-Nov-17 | 07-Dec-17 |
| | 12-Dec-17 | 27-Dec-17 |
| | 11-Jan-18 | 24-Jan-18 |
| Cricketers Way | 23-Oct-17 | 06-Nov-17 |
| | 23-Nov-17 | 07-Dec-17 |
| Curlew Avenue | 07-Jul-17 | 18-Jul-17 |
| | 29-Sep-17 | 19-Oct-17 |
| | 03-Nov-17 | 17-Nov-17 |
| Cygnet Drive | 24-Jul-17 | 04-Aug-17 |
| Dock Road | 24-Jul-17 | 25-Aug-17 |
| | 06-Nov-17 | 20-Nov-17 |
| Doddington Road | 31-Aug-17 | 14-Sep-17 |
| | 08-Jun-17 | 05-Jun-17 |
| | 27-Nov-17 | 29-Nov-17 |
| Drake Avenue | 30-Jun-17 | 13-Jul-17 |
| East Park Street | 14-Aug-17 | 22-Aug-17 |
| | 15-Jan-18 | 02-Feb-18 |
| Eastbourne Close | 18-Oct-17 | 24-Oct-17 |
| | 22-Nov-17 | 06-Dec-17 |
| East bourne Road | 10-Nov-17 | 30-Nov-17 |
| Eastwood | 06-Jul-17 | 23-Aug-17 |
| | 02-Nov-17 | 20-Dec-17 |
| Eden Crescent | 09-Oct-17 | 17-Oct-17 |
| | 09-Nov-17 | 23-Nov-17 |
| Elder Place | 17-Nov-17 | 23-Nov-17 |
| | 04-Jan-18 | 18-Jan-18 |
| Farriers Gate | 04-Aug-17 | 14-Aug-17 |
| | 11-Aug-17 | 31-Aug-17 |
| | 05-Oct-17 | 19-Oct-17 |
| | 09-Oct-17 | 23-Oct-17 |
| | 09-Oct-17 | 27-Oct-17 |
| | 16-Oct-17 | 30-Oct-17 |
| | 08-Nov-17 | 28-Nov-17 |
| Fairway | 24-Nov-17 | 09-Jan-18 |
| Fairview Avenue | 13-Dec-17 | 29-Dec-17 |
| Fairview Crecent | 28-Nov-17 | 04-Dec-17 |
| | 15-Jan-18 | 29-Jan-18 |
| Fairview Drive | 27-Nov-17 | 22-Dec-17 |
| Fairview Gardens | 22-Nov-17 | 28-Nov-17 |
| | 16-Jan-18 | 30-Jan-18 |
| Fairbairn Way | 10-Nov-17 | 21-Nov-17 |
| | 22-Jan-18 | 05-Feb-18 |
| Fen View | 10-Nov-17 | 16-Nov-17 |
| | 19-Jan-18 | 02-Feb-18 |
| Fenland Way | 24-Jul-17 | 11-Aug-17 |
| | 09-Jun-17 | 29-Jun-17 |
| Furrowfields Road | 27-Jul-17 | 10-Aug-17 |
| | 04-Oct-17 | 18-Oct-17 |
| Gibside Avenue | 17-Nov-17 | 27-Nov-17 |
| | 22-Jan-18 | 05-Feb-18 |
| Gipson Close | 26-Jun-17 | 30-Jun-17 |
| Glebe Close | 23-Oct-17 | 30-Oct-17 |
| | 12-Dec-17 | 28-Dec-17 |
| Green Park | 31-Aug-17 | 13-Sep-17 |
| | 08-Sep-17 | 21-Sep-17 |
| | 02-Oct-17 | 10-Oct-17 |
| | 11-Oct-17 | 07-Nov-17 |
| | 18-Oct-17 | 01-Nov-17 |
| | 16-Jan-18 | 18-Jan-18 |
| Gull Way | 07-Jun-17 | 04-Jul-17 |
| Harold Heading Close | 13-Nov-17 | 21-Nov-17 |
| | 25-Jan-18 | 08-Feb-18 |
| Haighs Close | 12-Oct-17 | 26-Oct-17 |
| | 21-Nov-17 | 05-Dec-17 |
| Hazel Close | 13-Nov-17 | 17-Nov-17 |
| | 02-Jan-18 | 16-Jan-18 |
| Heronshaw | 27-Jul-17 | 03-Aug-17 |
| High Street | 21-Jul-17 | 31-Jul-17 |
| | 03-Aug-17 | 16-Aug-17 |
| | 25-Sep-17 | 27-Oct-17 |
| | 09-Oct-17 | 17-Nov-17 |
| | 23-Oct-17 | 01-Dec-17 |
| | 14-Nov-17 | 28-Nov-17 |
| | 08-Jan-18 | 30-Jan-18 |
| Hilda Clarke Close | 23-Oct-17 | 27-Oct-17 |
| | 13-Dec-17 | 29-Dec-17 |
| Horsegate Gardens | 15-Sep-17 | 05-Oct-17 |
| Hunters Close | 11-Sep-17 | 19-Sep-17 |
| | 09-Oct-17 | 23-Oct-17 |
| Huntingdon Road | 04-Sep-17 | 06-Oct-17 |
| James Gage Close | 14-Nov-17 | 22-Nov-17 |
| | 29-Jan-18 | 12-Feb-18 |
| Juniper Drive | 31-Aug-17 | 13-Sep-17 |
| | 09-Oct-17 | 23-Oct-17 |
| King Edward Road | 03-Aug-17 | 09-Aug-17 |
| | 06-Nov-17 | 20-Nov-17 |
| | 08-Jan-18 | 22-Jan-18 |
| Kingfisher Close | 30-Jun-17 | 13-Jul-17 |
| Larham Way | 22-Jun-17 | 05-Jul-17 |
| Linden Drive | 02-Oct-17 | 20-Oct-17 |
| Lindsells Walk | 07-Sep-17 | 20-Sep-17 |
| | 12-Oct-17 | 26-Oct-17 |
| Lode Way | 06-Jul-17 | 09-Aug-17 |
| | 19-Oct-17 | 25-Oct-17 |
| | 06-Nov-17 | 20-Nov-17 |
| London Road | 05-Oct-17 | 01-Nov-17 |
| | 05-Oct-17 | 10-Nov-17 |
| | 16-Oct-17 | 10-Nov-17 |
| | 18-Oct-17 | 14-Nov-17 |
| | 08-Jan-18 | 02-Feb-18 |
| Mallard Close | 02-Oct-17 | 16-Oct-17 |
| Marian Way | 20-Nov-17 | 08-Dec-17 |
| Mayfly Close | 13-Nov-17 | 24-Nov-17 |
| | 11-Jan-18 | 25-Jan-18 |
| Market Hill | 28-Jul-17 | 07-Aug-17 |
| | 30-Oct-17 | 13-Nov-17 |
| | 03-Jan-18 | 23-Jan-18 |
| Meadow Close | 01-Nov-17 | 09-Nov-17 |
| | 13-Dec-17 | 29-Dec-17 |
| Millfield Close | 06-Nov-17 | 14-Nov-17 |
| | 02-Jan-18 | 16-Jan-18 |
| New Road | 14-Jul-17 | 10-Aug-17 |
| | 27-Jul-17 | 09-Aug-17 |
| | 05-Aug-17 | 25-Aug-17 |
| | 21-Aug-17 | 04-Sep-17 |
| | 12-Oct-17 | 15-Nov-17 |
| | 06-Dec-17 | 12-Jan-18 |
| Newlands Road | 25-Aug-17 | 15-Sep-17 |
| | 26-Sep-17 | 23-Oct-17 |
| | 03-Oct-17 | 23-Oct-17 |
| | 09-Oct-17 | 27-Oct-17 |
| | 16-Oct-17 | 03-Oct-17 |
| | 12-Dec-17 | 11-Jan-17 |
| Old Auction Yard | 15-Aug-17 | 21-Aug-17 |
| | 16-Oct-17 | 24-Oct-17 |
| | 13-Dec-17 | 29-Dec-17 |
| | 15-Jan-18 | 29-Jan-18 |
| Park Street | 03-Oct-17 | 10-Oct-17 |
| | 10-Oct-17 | 24-Oct-17 |
| | 08-Jan-18 | 30-Jan-18 |
| Plover Close | 03-Jul-17 | 14-Jul-17 |
| Pound Road | 12-Jul-17 | 25-Jul-17 |
| | 24-Nov-17 | 14-Dec-17 |
| | 12-Dec-17 | 04-Jan-18 |
| Quaker Way | 03-Jul-17 | 14-Jul-17 |
| Queensway | 11-Aug-17 | 01-Sep-17 |
| | 03-Oct-17 | 23-Oct-17 |
| | 19-Oct-17 | 08-Nov-17 |
| | 11-Dec-17 | 27-Dec-17 |
| Railway Lane | 24-Aug-17 | 07-Sep-17 |
| | 28-Sep-17 | 25-Oct-17 |
| | 30-Oct-17 | 24-Nov-17 |
| Ravenscroft | 22-Aug-17 | 30-Aug-17 |
| | 09-Oct-17 | 23-Oct-17 |
| | 16-Oct-17 | 30-Oct-17 |
| Reed Close | 28-Nov-17 | 21-Nov-17 |
| | 02-Jan-18 | 16-Jan-18 |
| Saddlers Way | 29-Aug-17 | 04-Sep-17 |
| Slade Way | 28-Aug-17 | 04-Sep-17 |
| | 12-Oct-17 | 26-Oct-17 |
| | 21-Nov-17 | 05-Dec-17 |
| South Park Street | 26-Aug-17 | 08-Sep-17 |
| | 17-Oct-17 | 02-Nov-17 |
| | 11-Dec-17 | 29-Dec-17 |
| St Francis Drive | 11-Sep-17 | 26-Sep-17 |
| | 02-Oct-17 | 20-Oct-17 |
| | 23-Oct-17 | 10-Nov-17 |
| | 02-Jan-18 | 24-Jan-18 |
| St James Close | 21-Aug-17 | 30-Aug-17 |
| | 26-Sep-17 | 09-Oct-17 |
| | 19-Oct-17 | 02-Nov-17 |
| | 11-Dec-17 | 27-Dec-17 |
| St Martins Close | 13-Dec-17 | 29-Dec-17 |
| St Martins Road | 08-Sep-17 | 12-Oct-17 |
| | 27-Sep-17 | 10-Oct-17 |
| | 30-Oct-17 | 13-Nov-17 |
| | 13-Dec-17 | 19-Jan-18 |
| | 04-Jan-18 | 26-Jan-18 |
| | 08-Jan-18 | 09-Feb-18 |
| St Pauls Drive | 18-Aug-17 | 07-Sep-17 |
| St Peters Drive | 28-Aug-17 | 25-Sep-17 |
| | 02-Oct-17 | 27-Oct-17 |
| | 19-Oct-17 | 15-Nov-17 |
| St Stephens Drive | 18-Aug-17 | 01-Sep-17 |
| | 09-Oct-17 | 23-Oct-17 |
| | 18-Oct-17 | 01-Nov-17 |
| | 11-Dec-17 | 27-Dec-17 |
| Station Road | 11-Oct-17 | 25-Oct-17 |
| | 13-Oct-17 | 27-Oct-17 |
| Station Street | 15-Aug-17 | 05-Sep-17 |
| | 28-Aug-17 | 07-Sep-17 |
| | 11-Sep-17 | 22-Sep-17 |
| | 06-Oct-17 | 12-Oct-17 |
| | 06-Oct-17 | 20-Oct-17 |
| | 20-Oct-17 | 03-Nov-17 |
| | 11-Dec-17 | 27-Dec-17 |
| | 12-Dec-17 | 28-Dec-17 |
| | 09-Jan-18 | 23-Jan-18 |
| Southampton Place | 13-Nov-17 | 01-Dec-17 |
| Teal Close | 17-Jul-17 | 28-Jul-17 |
| Tern Gardens | | |
| The Elms | 10-Nov-17 | 14-Dec-17 |
| The Hawthorns | 06-Sep-17 | 19-Sep-17 |
| | 12-Oct-17 | 26-Oct-17 |
| The Shrubbery | 02-Nov-17 | 15-Nov-17 |
| | 17-Jan-18 | 31-Jan-18 |
| The Orchards | 06-Sep-17 | 26-Sep-17 |
| | 03-Oct-17 | 23-Oct-17 |
| | 09-Oct-17 | 27-Oct-17 |
| Tithe Road | 08-Sep-17 | 12-Oct-17 |
| Treeway | 20-Sep-17 | 10-Oct-17 |
| Tribune Close | 20-Oct-17 | 02-Nov-17 |
| | 07-Dec-17 | 21-Dec-17 |
| | 10-Jan-18 | 24-Jan-18 |
| Victoria Street | 18-Aug-17 | 08-Sep-17 |
| | 13-Oct-17 | 02-Nov-17 |
| | 08-Jan-18 | 22-Jan-18 |
| Waterfields | 07-Nov-17 | 13-Nov-17 |
| | 18-Jan-18 | 01-Feb-18 |
| Wenny Road | 31-Aug-17 | 25-Oct-17 |
| | 09-Oct-17 | 24-Oct-17 |
| | 20-Oct-17 | 03-Nov-17 |
| Wesley Drive | 28-Aug-17 | 11-Sep-17 |
| | 06-Nov-17 | 20-Nov-17 |
| West End Close | 24-Nov-17 | 30-Nov-17 |
| | 18-Jan-18 | 01-Feb-18 |
| West Street | 20-Nov-17 | 22-Dec-17 |
| | 11-Dec-17 | 10-Jan-18 |
| West Park Street | 29-Sep-17 | 17-Oct-17 |
| | 19-Oct-17 | 06-Nov-17 |
| | 02-Jan-18 | 16-Jan-18 |
| Westbourne Close | 07-Nov-17 | 13-Nov-17 |
| | 23-Jan-18 | 06-Feb-18 |
| Westbourne Road | 10-Nov-17 | 07-Dec-17 |
| | 10-Nov-17 | 07-Dec-17 |
| | 20-Nov-17 | 15-Dec-17 |
| Whitemill Road | 07-Nov-17 | 04-Dec-17 |
| Willow Tree Close | 02-Oct-17 | 06-Oct-17 |
| | 13-Nov-17 | 15-Nov-17 |
| | 27-Nov-17 | 11-Dec-17 |
| | 07-Dec-17 | 21-Dec-17 |
| Wimpole Street | 16-Oct-17 | 30-Oct-17 |
| | 08-Jan-18 | 22-Jan-18 |
| Winsor Close | 20-Oct-17 | 03-Nov-17 |
| Wood Street | 01-Aug-17 | 21-Aug-17 |
| | 04-Sep-17 | 12-Sep-17 |
| | 23-Oct-17 | 17-Nov-17 |
| Woodside | 26-Oct-17 | 03-Nov-17 |
| | 25-Jan-18 | 08-Feb-18 |
| York Road | 03-Oct-17 | 23-Oct-17 |
Please follow and like us: