Well got the 28mm pipe from Plumbase Ely (01354 663711), excellent service and very reasonable delivery charge, spent £2.99 at Argos for children's play sand, filled the pipe and sealed the ends with insulating tape.
The Bending Rig (link) worked ok, the grooves were designed for 37mm pipe so the 28mm flared slightly due to the high walls, also as the spacing of the rollers was quite wide, the bend started at a fixed point set back from the end of the pipe which means the circle can't be fully formed this might make connecting difficult if I decide on a dual loop configuration.
The pipe has a number of compression creases which is a shame, the crease at the bottom of the bend was due to me thinking that I could close the last few inches by pulling the loop together – WRONG!!, but as this was the very first one I've ever done, it turned out ok, I do have a spare length of 28mm, so next time I will try not to rush the bending process and I might even try and heat and anneal the pipe so as to make even more malleable.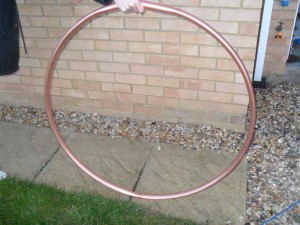 Loop held by my very able other half.
Please follow and like us: