Made the pipe bender for the magnetic loop today, the idea is that by slowly bringing the pinch roller closer to the static rollers after each pass of the copper pipe, a bend will be introduced, repeating this with slightly more pressure will ultimately form a loop.
I thought how best to engineer the screw mechanism to apply pressure to the pinch roller against the static rollers and decided it was time to dust off my old trusty Workmate bench.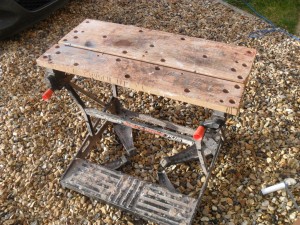 The wood grooved rollers were made locally after I put a shout out on 'Streetlife' a local community website, these were made to accommodate 37mm pipe as that will be the maximum I will ever be able to afford!
In order to make the rollers, freely rotate I fitted bearings with a 10mm shaft size (10off 25mm x 8mm shielded bearings for £5.12 Ebay).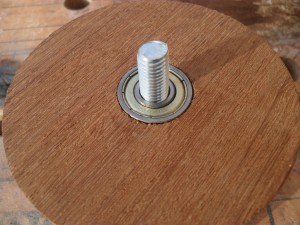 I drilled three 10mm holes through the Workmate top (I did look at using the existing holes on the Workmate top and sleeving them, but their was no benefit over drilling relatively small holes), using 10mm threaded rod I passed this through the worktop (2off 10mm x 500mm £3.00 Wicks).
Made up a cheap and cheerful handle (Flat bar 1m x 25mm x 5mm £7.12 Wicks) for the pinch roller and bolted this through the worktop using 10mm threaded rod.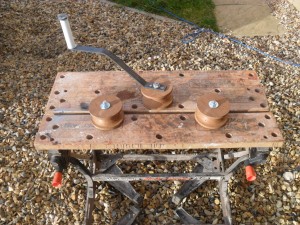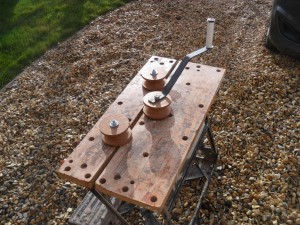 The next step is to get some lengths of 28mm copper pipe and see if it works, I'll be using sand inside the pipe in the hope of avoiding any creasing,(fingers crossed).
Link to my first result of bending 28mm pipe.
Please follow and like us: