The clock in my shack is one of those which receives a radio signal enabling it to be constantly accurate and it will automatically adjust for British Summer Time, as the contact time in paper and electronic logs is recorded in UTC (Coordinated Universal Time), I decided to get an additional  conventional analogue wall clock and customize it a little.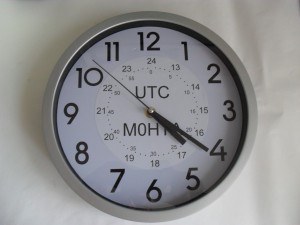 The battery powered clock used was described as a kitchen wall clock, item code 257946  costing £3.99 from B&M's.
I wanted the clock to show 24 hour format, that it was in UTC and my call sign, I decided to print the detail onto 80gsm paper, printing a circular cutting line and stick the addition to the clock face.
I used Visio for the drawing and the template can be downloaded here, a jpg version for editing in paint is here.
The clock came apart by the removal of a few screws, the hands were then removed, the clock mechanism was held in place with a nut, once removed the disassembly was complete.
The printout was cut, and adhered to the clock face with a 'Prit stick' type glue and the clock reassembled, job done!
If I had a working colour printer I would have highlighted some of the new detail and maybe even added a picture, but the cost of printer ink is didn't warrant the expenditure on this little project.
The clock face on the clock I used was slightly over A4 size, if it was less than A4, I would have printed a completely customized new face so no difference in contrast would be seen.
Please follow and like us: