I have posted previously about a distant contact logged using the program WSPR using 10 watts, for this Australian contact my transceiver was using the 30m band, mode USB with an output from the rig set to 5 watts.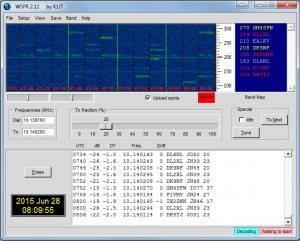 After the PC clock has been synchronized to the network, I run the software which is linked to my transceiver via serial COM port 1, selecting the chosen band, the software adjusts the transceiver to the correct frequency and will then receive and decode signals, before waiting a pre determined time, before transmitting my station call sign, QRA locator and power output.
Whilst my station is transmitting, other stations who are running WSPR are in listening mode and I'm listening for their signal when I'm not transmitting, this allows a map of interconnections of, I can hear them, they can hear me or both.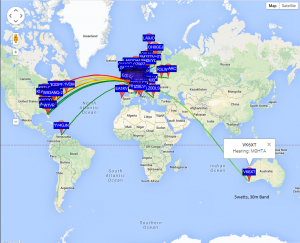 I couldn't believe that within an hour of running the program my signal was received in Australia, up until that point it was mostly Europe which was to be expected, I left the program running for12 hours in total, and the map shows where I had contacted in that time.
Please follow and like us: