Chatteris had a lighting storm right overhead for some time in the early hours of Saturday 4 July, the strikes were spectacular and the whole sky was alight with activity.
The first alert my Boltek lightning detector e-mailed was at 12.22am, the storm was successfully tracked until 02.40am when the severity of the storm took out the electrical supply to my part of the town, it was just over 4 hours when the power returned.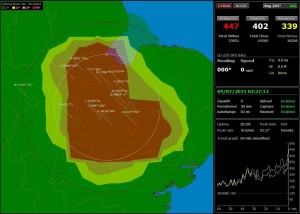 Screen grab from weather PC just before the UPS batteries exhausted themselves, shows over 23800 strikes with a current rate of 447 strikes per minute (these could be inter cloud, cloud to cloud or strikes to ground).
While the wife loved natures display of power, the dog certainly didn't!
Please follow and like us: