After reading reviews and watching YouTube videos, I decided to buy a BHI noise cancelling speaker from Radioworld ltd – Link to Information.
I opted for this version as it has a small footprint and is very adaptable, for example if I choose to put a rig in a vehicle, transferring it is a very simple matter of unplugging the audio 3.5mm jack from the transceiver and 12v power lead, the other plus was that it has a 3.5mm mono headphone jack which cuts the speaker when plugged in, meaning the feed to the headphones benefits from the noise cancelling. (see warning)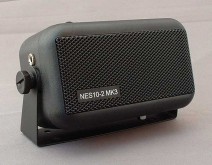 The unit works really well and reduces interference and in some cases completely eliminates it enabling me to hear stations which I couldn't otherwise.
The speaker has a number of controls:
Power Off/ Audio Bypass, with this ON the unit is a powered amplifier with the volume being adjusted but a control on the top of the speaker (Note – as a powered speaker it is susceptible to picking up the polling of any mobile phones near to the unit which can be very annoying), with the power on, but the noise cancellation OFF, a RED led will be lit on the front of the unit.
Turning noise cancellation ON is done by a slide switch on the top of the unit, the LED will change to green when in this mode, a multi-position rotary switch on the rear of the unit adjusts the level of filtering, you know when you have too much noise cancellation as the speech sounds like they are underwater!
I'm very pleased with the unit and it works well, two things I have found is that the filtering initially introduces latency during tuning until the noise cancelling stabilizes, this only takes a few moments but gives the impression that you are not on frequency with the tendency therefore to tune past the spot frequency in use, the other issue is that any roger bleep, radio confirmation or CW tone is not caught by the noise cancelling circuit and will break through the unit at an Warning – incredibly loud volume, be aware of this if you are wearing headphones (as I found out!!).
Please follow and like us: