I realised fairly early on that I would need some form of antenna analyser if I was to build my own, the decision was then which one and how much to spend!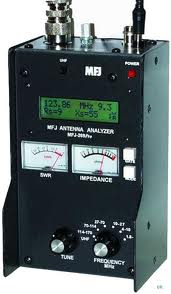 I opted to buy the MFJ260C Pro – Link to Manual as this has all the frequency ranges that I will need and a number of very useful, added value features, such as:
Coax Loss measurement
Cable Length
Length (distance) to open or short circuit
Capacitance in pico Farads
Inductance in micro Henries
Frequency Counter
The money to help pay for this came from not having to pay two months of council taxes, I ordered the unit from Ham Radio Outlet, New Hampshire, USA, their was a January promotion of a $50 reduction which eased the pain a bit!
The meter took 4 days to reach the Parcel Force Cambridge depot where it sat until I paid £64 release fee (£54 VAT and £8 handing fee), it would have been nice if I didn't have to pay this, but I knew when I ordered it that it was a real possibility, nevertheless, I saved over £71.00!
Well I didn't actually save £71 as the unit needs batteries to be portable, I bought rechargeable ones as I didn't want to keep opening the case to remove batteries when not in use, also this allows me to regularly keep the batteries charged in-situ, the downside was that these cost nearly £30 – (10 AA 2000mAH batteries bought in packs of 4 from Argos).
I'll give another write-up once I know how to turn it on 🙂
Please follow and like us: