The mag loop build project is getting nearer, I have the MFJ antenna analyzer, the control method is being worked through and the grooved rollers have been made so I can bend the copper pipe into a loop, the most expensive item required for the loop to work effectively is the tuning capacitor.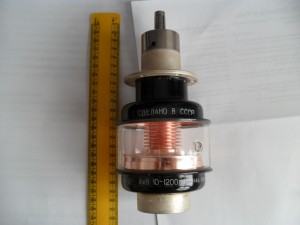 Details:-
Russian (Soviet) Vacuum Variable Capacitor KP1-12, 10-1200 pF, 4 kV, 50 A, 30 MHz.
Main technical data:
Min. capacity – 10 pF (+/- 10%).
Max. capacity – 1200 pF (+/- 5%).
Nominal operating voltage – 4 kV.
Nominal HF current – 50A.
Frequency range – up to 30 MHz.
Glass body temperature range – up to 140 o F.
Height – 7.87 in. (~200 mm)
Diameter – 3.54 in (~90 mm).
Weight – 3.31 lb. (~1.6 kg.)
The build quality is excellent, with the turning action being very smooth and returning to the home position easily once holding torque has been removed, I haven't yet tested that the tube is still under vacuum, I will do this further down the project, the method involves putting the capacitor in the fridge for a while, when the capacitor is removed, if condensation is observed within the glass envelope, you know the tube seal has failed, the other more obvious sign is that the copper plates will oxidize and lose the bright and shiny appearance.
This was bought from Ebay at a cost of £103.20 (vendor to my best price offer saving £26) after a lot of research as I wanted the capacitor to have the widest range so as not to limit me too much on the loop sizes and hence the frequencies of interest I may wish to make in the future, station power output was a consideration which influences the Kv operating voltage rating of the capacitor, however, I will tailor the output power to keep below the operating voltage when needed especially as I do not want to buy another one!
The postage was £36.62 which I thought was a bit expensive, however, I have never seen such comprehensive packaging to protect an item and this all adds to the weight, so overall, I'm happy and feel I have value for money.
Please follow and like us: