Decided to make a dummy load as per the design of Ham AI4JI and incorporating ideas from a YouTube upload.
Link to AI4JI web site, this includes how to make the unit and also all the documentation showing how to take and interpret measurements in order to determine power output.
This YouTube video shows how to make a similar dummy load, the bit I took from this was the use of copper pipe.
This is how mine turned out: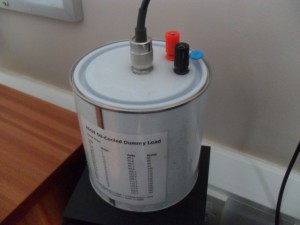 Parts & Cost
Ebay for the following –
1 litre Empty Paint Mixing Tin £3.75
2 x 500ml White Mineral Oil £15.50
BAV21 250v Diodes (pack 10) £2.67 inc P&P
20 x 3w 1k 500v Metal Oxide Resistors £5.70
Radio Rally –
1 x SO239 Socket – Chassis Mount – Nut Fixing £1.00
Shack –
1 x 0.01uf 2kV Ceramic Capacitor
200mm offcut of 28mm Copper Pipe
Red & Black Terminal Posts
Total Cost – £28.62
The Mineral Oil was the most expensive part of this build, I could have used engine oil as the coolant but taking the overall costs into consideration, under £30 for a 300w capable Dummy Load is not too bad.
NOTE– 12 October 14 – Even through I sealed around the terminal posts and antenna outlet socket on the lid, I have found that the mineral oil is so viscous that it 'wicks' up the wires and finds the smallest escape, even when not in use.
At first I thought I must have overfilled the can somehow, but their is a 10mm gap between the top of the lid and the liquid level, so capillary action must be the cause just to let you know.
Please follow and like us: