I bought a Ameritron RCS-8V 5 way antenna switcher from Ham Radio Outlet, this uses a rotary switch in the shack to select a remote relay to energize, this allows up to 5 antennas to use a single coax.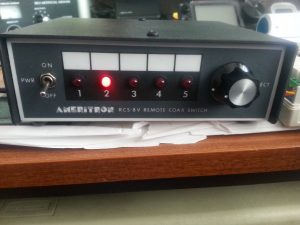 I use Ham Radio Deluxe as my program of choice, this software has a feature to allow automated switched depending on the Band in use via the computers Parallel Port (Auxiliary Switching).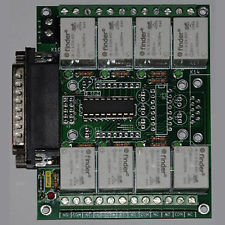 I bought an 8 relay interface off eBay for £18 and mounted it inside an enclosure, the Parallel lead from the PC to the interface was also from eBay and cost £2.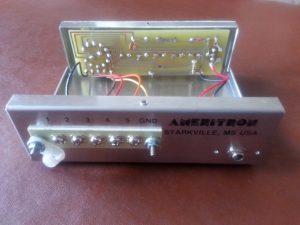 The inside of the RCS-8V is a simple two pole rotary switch, one pole switches 12v to the panel LED, the other pole switches 12v to the output connections for the relay.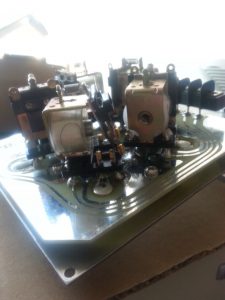 The above picture is of the opened external relay unit, the first thing I noticed was that the relay armature had jumped out of position in transit and was on the wrong side of the contact, this fortunately was easily sorted.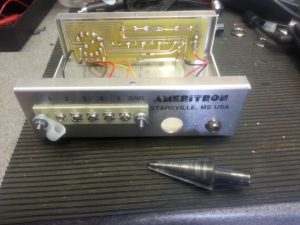 The On/Off switch on the RCS-8V is a single pole double throw, I decided that for normal operation,  when the RCS-8V  was in the ON position, control was only via the rotary switch, with the switch in the OFF position, control of the RCS-8V  will be from the relay interface, power for the interface will also be switched from the RCS-8V.
The connection from the interface to the RCS-8V  is via an 8 pin connector which needs a16mm hole.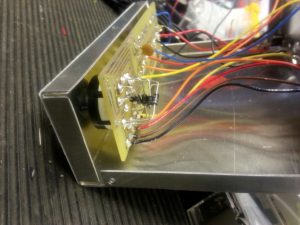 Diodes were soldered across the rear of the rotary switch, this allows independence of switching, so if the rotary switch is left on antenna relay 3 for example, when the front RCS-8V switch is set to OFF, power is applied to the interface and whatever relay switches becomes the master (example below).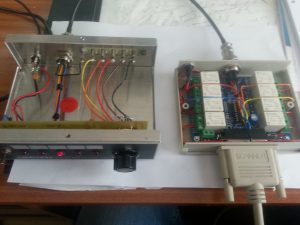 RCS-8V switched ON, no power to relay interface, rotary switch selected antenna 3.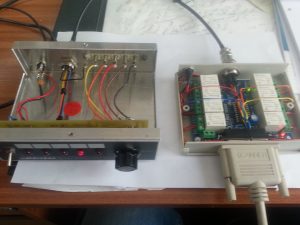 RCS-8V switched OFF, power to relay interface ON, relay 4 switches antenna 4.
Cambeam 2016 the Cambridge & District amateur Radio Club newsletter has a great article on using an Arduino for automating antenna relay controls and is worth checking out. Article by Bob Cowdery G3UKB.
Please follow and like us: