I wanted a quick and easy way of applying protective lubricant to the wire rope which raises and lowers my mast, my first effort involved a paint brush and a tin of grease and I thought then that their must be a better method, both in terms of speed and effective application.
The option I chose was to use a spray wire rope and chain lube in conjuction with a home brew applicator.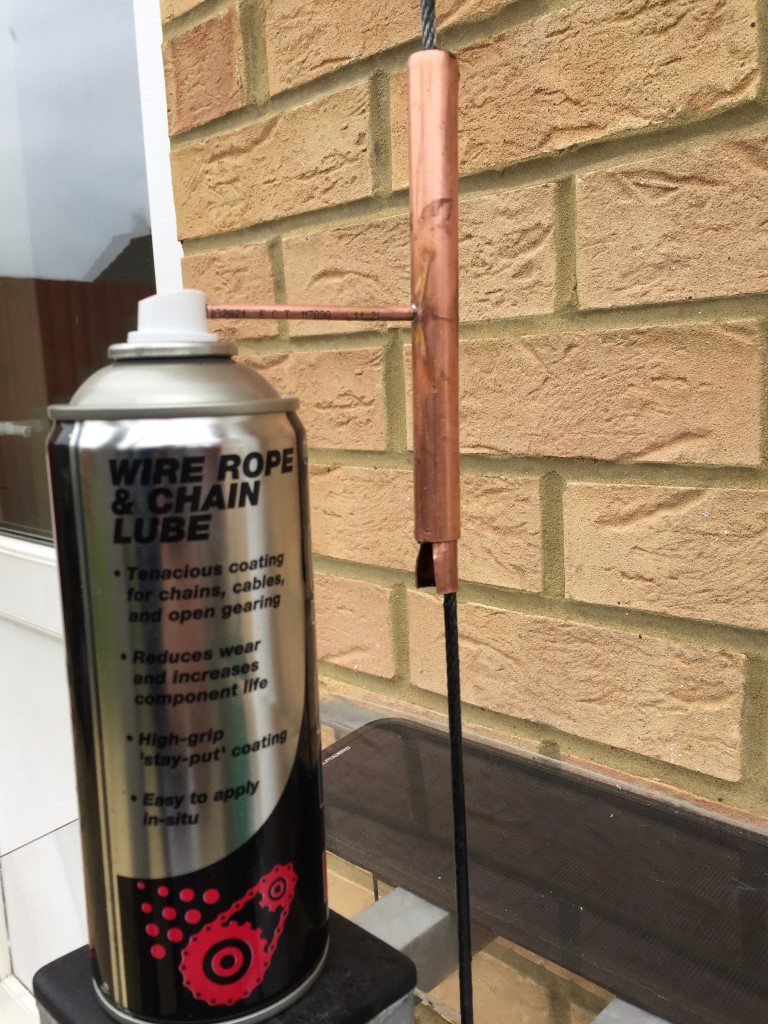 The FORCE spray lube costs £6.25 for 400ml from eBay, the details of product are:
A long lasting highly tenacious spray grease which reduces wear and increases chain life.
High grip, anti fling properties provide long lasting, high depth lubrication and protection.
Penetrates inner rollers and resists the highest shock loads.
Ideal for chains, cables, wire ropes, fork lift chains, open gears and tail lift assemblies.
Reistant to weather and salt, provides high resistance to wash off.
'O' Ring Safe unlike other greases!
Parts
1 off 10mm copper pipe 150mm in length
1 off 15mm copper pipe 135mm in length
1 off 4mm copper pipe 60mm in length
1 off 12mm panel grommet
Construction
The 10mm pipe had a 5mm slot cut down the complete length to allow the pipe to fit over the wire rope, at the base of the 10mm pipe I 'flared' this to 14mm.
The 15mm pipe was cut at one end with a roller type pipe cutter (pipe slice) and this formed a nice curved lip, at the other end I used a hacksaw, this pipe also had a 5mm slot cut down its length, for the cutting of the slots I used a dremel with a mini abrasive disc.
As the spray gease doesn't come with extension tubes, I decided to use 4mm copper pipe (the 2mm inside pipe bore is perfect to slide over the spray cap nozzle), this was soldered half way up the 15mm pipe, this pipe enters directly opposite the cut slot. To act as a 'key-way' it protudes into the pipe by 1mm.
A 12mm panel grommet is cut to fit inside the 10mm pipe.
Operation
The 10mm pipe is slid over the cable with the flared section at the bottom: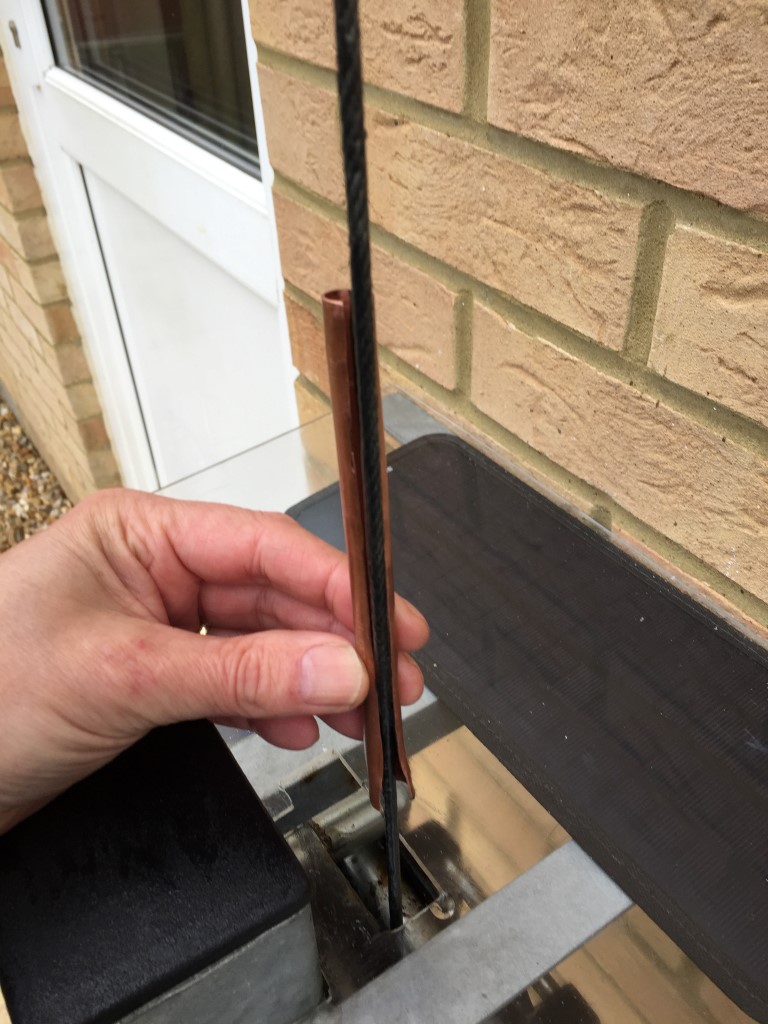 The grommet is installed at the top: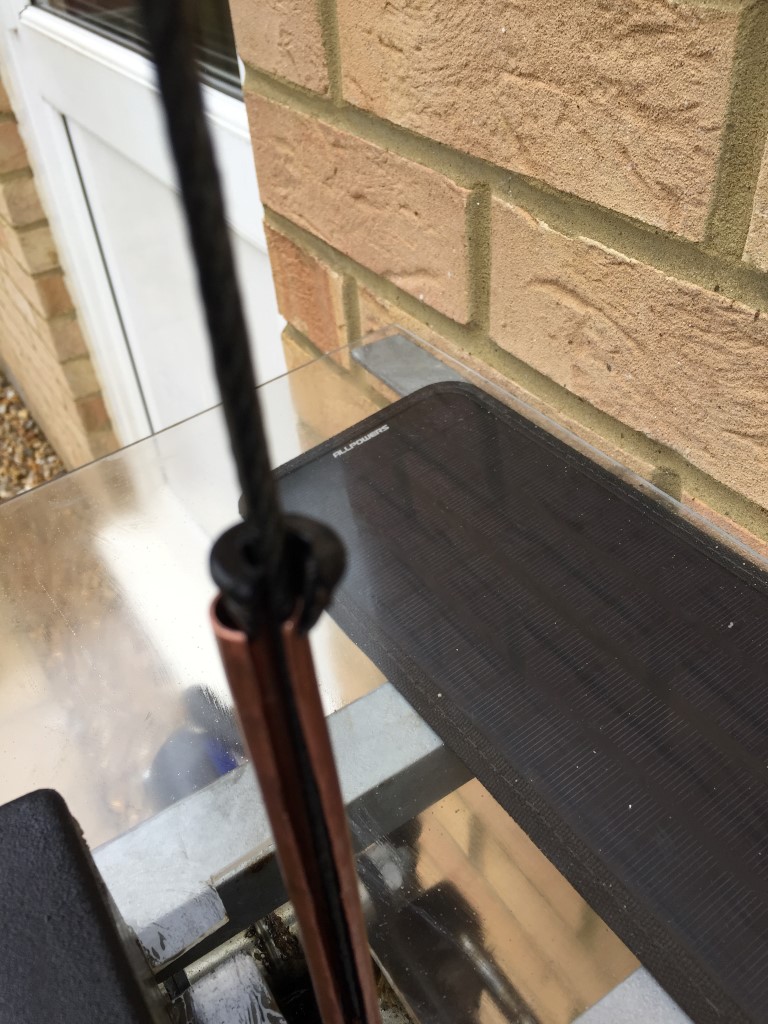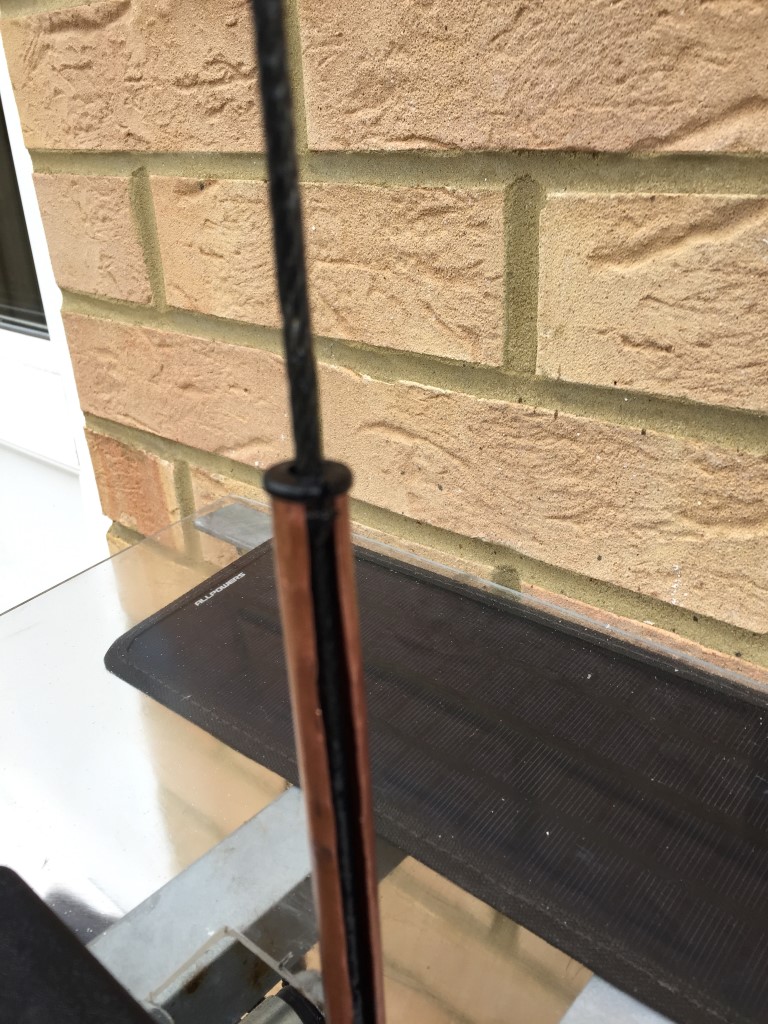 The 15mm pipe is now slid over the cable above the 10mm pipe and rotated so the grease inlet is inline with the slot in the 10mm pipe: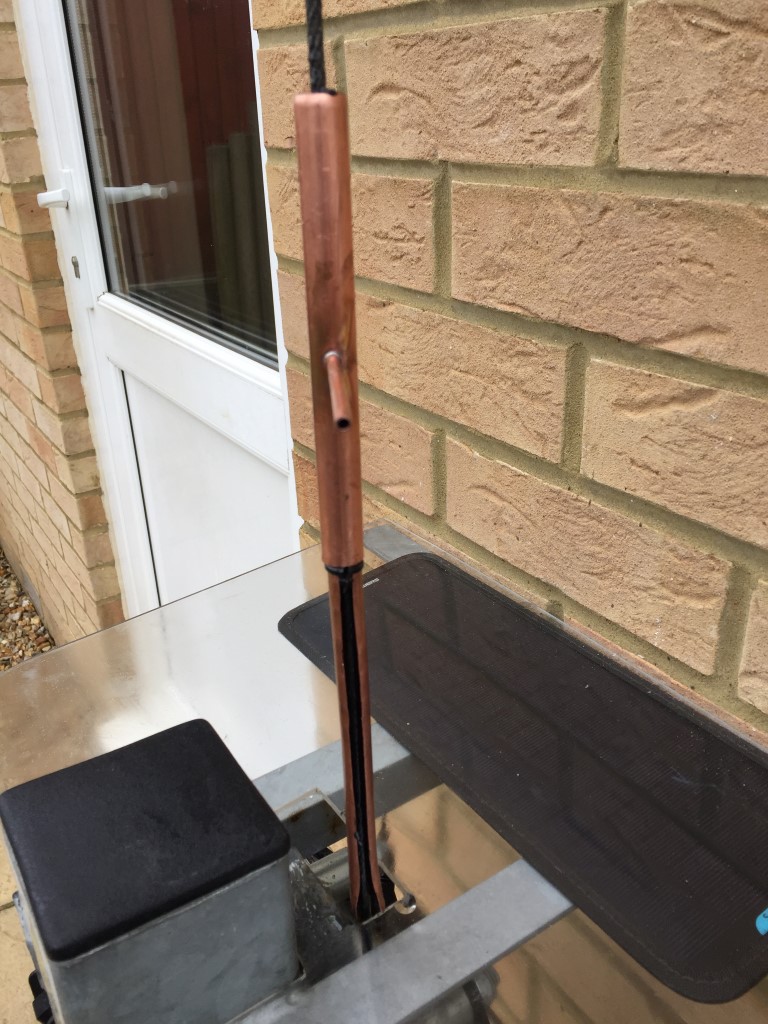 Noting the alignment, the 10mm pipe is pushed inside the 15mm pipe, the 4mm pipe protuding inside the 15mm pipe ensures the 10mm pipe can only fully slide in if the slot aligns, The lip on the 15mm pipe holds the grommet in place: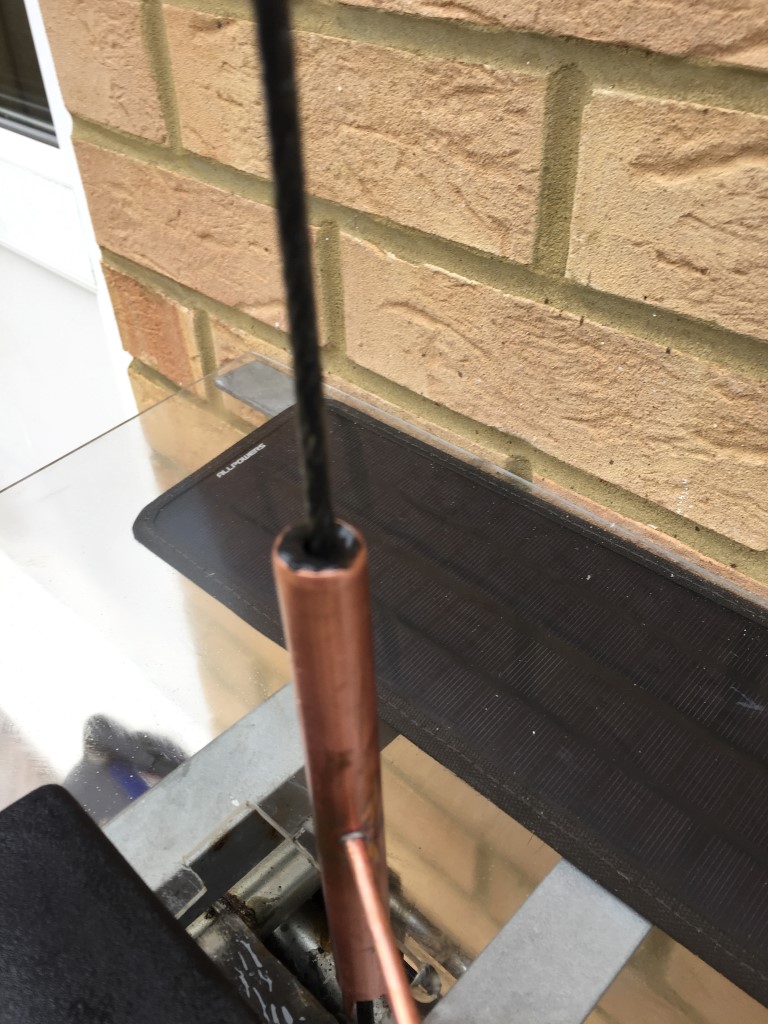 The finished product works quite well and gives an even coating to the wire rope, the length of the 4mm pipe was to allow the spray can to rest on a bracket, so I simply raise the mast and hold the spray button down 🙂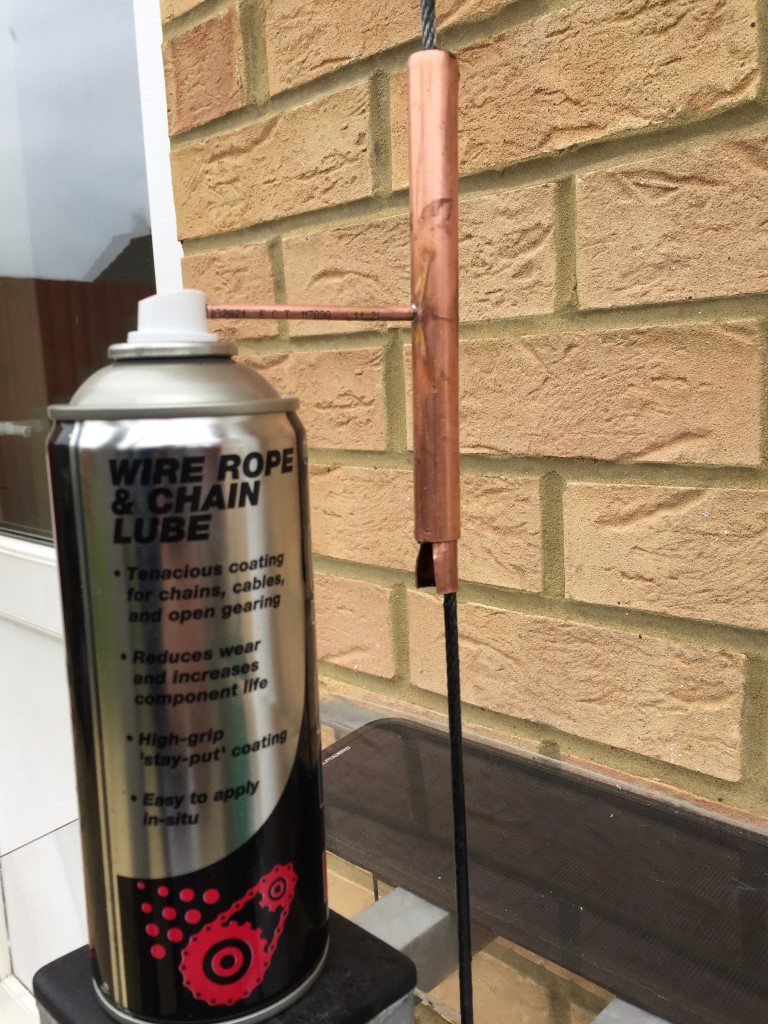 Please follow and like us: