Their is a great saying that 'if it ain't broke don't fix it', I was reading about the optimal (link to random length article) length of antenna wire, my overall wire length is 30m rather than at one of the optimum lengths specified in the link, one of the indicators apparently was if the auto-tuner tuned to perfectly, then it is not optimized for all the bands that the tuner can tune to.
According to the article, my antenna length should be 25.6m, so I loped 4.4m off the end and gleefully went to the shack to see what a dramatic change this will have made, well it used to tune on 80m and now it doesn't 🙁
The ladder came back out as did the soldering iron and heat shrink, I now have it back to as it was and I won't make that mistake again!
The table shows the results of the SG-237 tuning a 30m inverted 'L' wire at 6m above ground: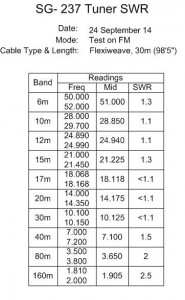 Lesson learned or is it now Lesson identified.
Please follow and like us: