Recently bought a Icom 7100 for the additional features this radio offers, one being DStar enabled, unfortunately I'm unable to access a  remote repeater, hence the BabyStar node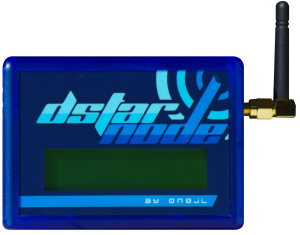 This is a small unit with only two physical connections required, these being power (7 Vdc to 15Vdc) and an hardwired internet connection.
When the BabyStar is first powered up it will use an available ip, and this is displayed for a few moments on the screen, typing this ip into your browser opens the BabyStar configuration and status pages.
I have setup in the Icom 7100 a repeater called BabyStar Node, I then lower the RF power of the rig to 0% and simply transmit to the BabyStar and via this, using the internet, to repeaters and reflectors worldwide with FM quality audio both ways.
The version of Firmware on the unit I bought was v1.02, shortly after v1.03 came out, you will need Hyperterminal and a programming lead to complete the update, the process quite easy as the instructions within the User Guide are really good, I found the drivers for the USB to Serial lead here.
Hyperterminal is found on older versions of Windows, such as XP, so make sure you have an old PC about!
22 May 2016 – Updated Firmware to 1.04
Please follow and like us: