My local area has quite an active 4m band, and recently Andy (G6OHM) has gained an NoV for a 4m simplex parrot which is working well.
Kevin (2E0OPU) kindly gave me a 4m band dipole as he knew I had an Icom 7100 and no antenna, so I finally got round to installing it.
I did a temporary setup at ground level and got the VSWR to 1.0:1, mounting the antenna in it's fixed location would not allow me to get the VSWR below 1.6:1 (this would give me a reflected power of 5.3%).
The cause of this problem was the close proximity of my mast, extending the dipole 300mm past this structure solved the problem.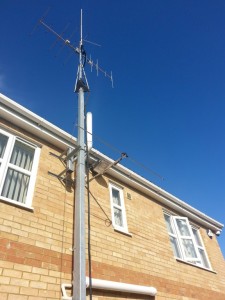 The dipole is horizontal for an SSB contest at the moment, I have used a stand off sleeve which the dipoles supporting tube slides into, this allows me to retract the dipole for fine tuning, a self tapping screw is used to hold the dipole either horizontally or vertically.
The bracket for the dipole was their before the mast, hence in the horizontal plane, the dipole it is across the mast stopping it from tilting for maintenance, as I have to get up the ladder to pull the mast top securing pin, it's no big deal as I will move the dipole out of the way at the same time.
The VSWR is 1.0:1 or as near as damn it!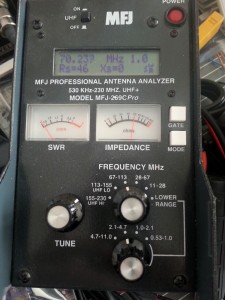 Please follow and like us: