Office
This is my man cave and dart hole, the dual monitors are from a single PC which is dedicated to running the various weather station software and home energy monitoring, I used to have the Vantage Pro2 console on my desk, but decided to mount it on the wall (see my blog of what went wrong!!).
The PC I use came from a eBay vendor (Charles computers) and was a refurbished unit, probably well over specked for what I need, I did try and use an old laptop first, but it just couldn't cope with processing video and got really hot (even though I did put a new fan and more memory in it), so at £80 with dual monitor output and 4Gb memory I have no complaints.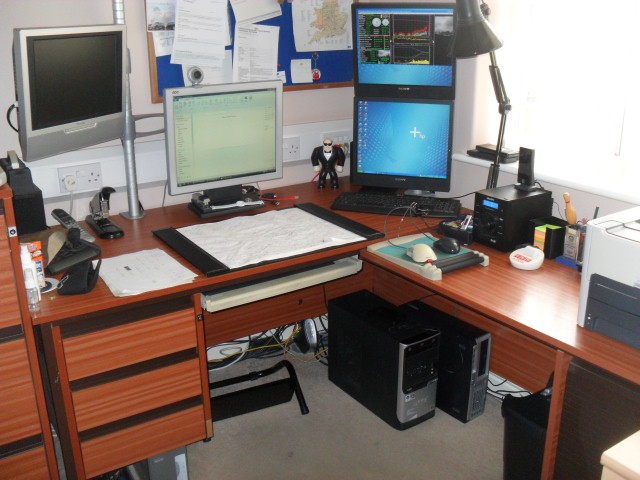 Weather PC is the smaller of the PCs
I not had dual monitors before and have found it really useful, I can drag the internet search engine on to the top screen whilst having Expression Web 4 open, so I can simply copy hyperlinks address straight into the pages and of course I can easily work on multiple programs running together. My home PC monitor is the one in the center with the higher one on the left being for the CCTV and TV, I also use it as a PC monitor when setting up PC although the home PC has a KVM switch for this (you can see the cables which go to the KVM switch to the side of the home monitor screen).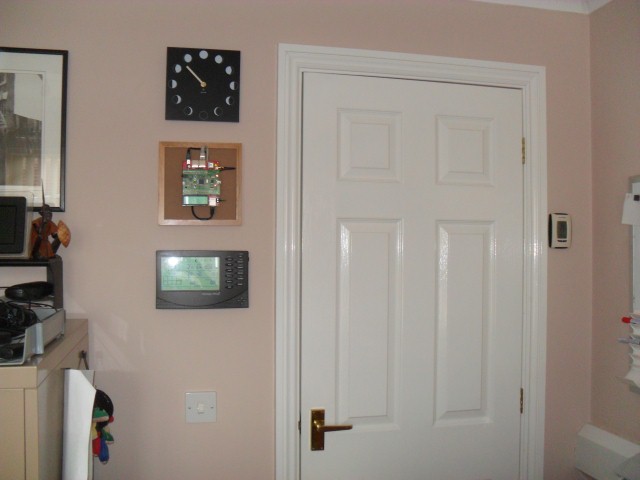 Top down - Moon Cycle clock, Blitzortung controller and Davis console.
As the house has plasterboard walls, dropping cables down the cavity is easy and gives a neat appearance, I use dry lining boxes, so should I need to move anything in the future, I can either use a blanking plate to cover the cable holes, or refit the plaster square which I cut out for the dry lining box using a baton to support it, fill and plaster over it.