Weather Station Wiring Schematic
Wiring
Overview: I opted for a cabled Davis Vantage Pro2 (DAV-6152CUK) rather than a wireless version simply to remove any maintenance burden of changing batteries and it is relatively easy for me to get cables around and outside of the house, using the cabled station does reduce my ability to add sensors or relocate the existing ones should I need to, but to date it has met my needs and is an extremely reliable piece of kit.
Setup: The CCTV camera system is covered here, however the schematic shows this graphically.
Starting from the display console and working back to the Integrated Sensor Suite (ISS), I used a straight through RJ11 to RG45 cable in order to connect the console to a RJ45 faceplate, this faceplate is a standard outlet wired in Cat 5e cable back to a patch panel within a Small Office Home Office (SOHO) cabinet, this is then patched to the ISS on the external weather station, as the 'pin outs' are different and not straight through, port 16 in the patch panel has been wired uniquely for the ISS, this means that I can cross patch to this port and use the Vantage Pro2 anywhere there is structured wiring point fitted
The fixed wiring from port 16, using Cat 5e, goes to one side of a dual gang RJ11 faceplate fitted within an IP rated enclosure at the base of the weather stations mounting post, plugged into this outlet is a RJ11 to RJ11 cable to the ISS 'In' socket.
Within the loft is a single gang RJ11 outlet, this is wired directly back to the ISS using Cat 5e cable, the anemometer plugs into this jack, the other end is terminated on the remaining spare outlet on the dual gang faceplate, as above a length of RJ11 plugged cable was used to connect this outlet with the 'Wind' input of the ISS.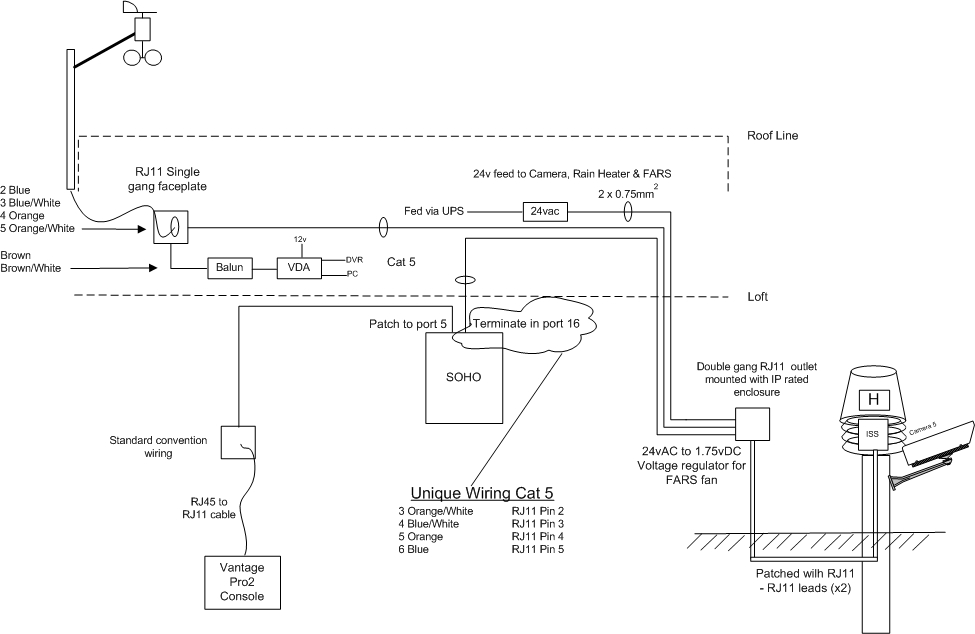 Clicking on parts of the drawing will bring up pictures
Outlet from house at weather station
Internal outlet wiring
Grey pre-made and plugged cables for
Wind and Console
Loft Anemometer connection point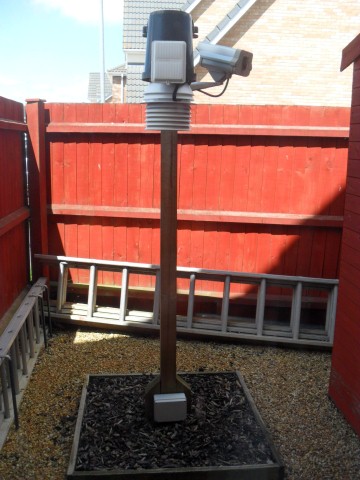 Chatteris Weather Station