CCTV Camera used as Weather Cam
CCTV
I use Weather Display to view locally and on the Internet, I just love the ability to make a movie of clouds and have them played back at speed, my setup uses a CCTV camera (Sanyo VCC-ZM400 sadly no longer available) within a heated enclosure, both of these came from eBay.
The camera had a really high specification in it's day, it is a true day/night camera complete with integral lens with auto focus and zoom functionality, essentially a fit and forget camera.
In the loft I have a 24 volt AC power supply fed from an Uninterruptable Powered Supply (UPS), this supplies both the heated camera enclosure and camera, later modifications using the supply was to heat the rain gauge during low temperatures and also to power a Fan Aspirating Radiation Shield (FARS), each of these upgrades has it's own section within the ISS page.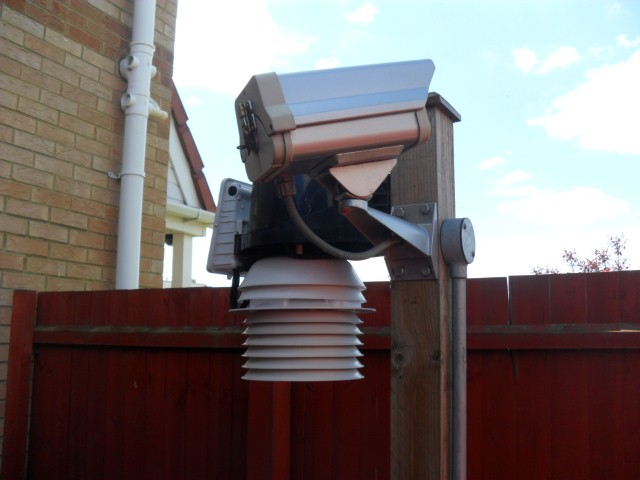 The cable from the loft to the outside weather station was 0.75mm x 2 core stranded flex, electrical junctions have been made in an IP rated enclosure at the base of the stations mounting post, this enclosure houses a voltage regulator for the FARS and also a dual RJ11 faceplate to allow the ISS cable to transition to Cat 5 before going into the house.
The video out from the CCTV camera goes to a balun which allows the video output to use a twisted pair type cable rather than a co-axial cable, as Cat5 is a 4 pair twisted pair (if that makes sense), I used one pair of cables from the balun off the back of the camera to feed to the attic, where another identical balun converts it back to a co-axial cable connector (BNC), I also used two pairs from the same cable to pick up the anemometer which fitted to the TV aerial mast on the opposite side of the house.
The co-axial output from the balun is fed into a Video Distribution Amplifier (VDA), from this two outputs are available, one goes to a digital video recorder, whilst the other goes into the Weather PC via a USB capture device.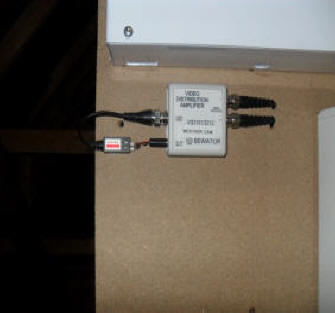 Image showing VDA and Balun fixed to a board in the loft (Left 1 in, Right 2 out)
My first USB capture device was made by EzCAP, but didn't last very long at all, the one I was using (VS-USB2800D) didn't like lightning and to show it's disapproval, it stopped working and took my PC's mother board USB ports with it, fortunately the PCI slots still work and now I using a ImpactVCB from Hauppauge, and the image quality is much improved over the USB capture devices. To simplify this setup and possibly get a better quality image, I considered using a conventional USB web cam, I bought the USB extender from Amazon which can use Cat 5 cable between each end, with a working distance of 50', unfortunately it was only USB1.0 compatible and my web cam was USB 2.0, so it's staying as is for now. The good news is that I have found that the USB extender works for my Davis Vantage Pro2 console and I have extended the cable by 6 meters with no problems or dropped 'packets' ( the manufactures claim is up to 150 feet).
The images from this camera are saved every 10 seconds at a frame rate of 12 per second with a video size of 640 x 480, file size is approximately 75Kb per capture, Weather display uses moviemaker to 'stich' these images together in order to make, 10 minute, 1 hour, all day and all year movies, each of the individual images are saved with the file name of the time they were taken, these files are only created once as they are overwritten daily with the 'stitched' images being saved for retrieval, you can see this movie ability here using images from my station.