Boltek LD-250 Lightning Detector
LD-250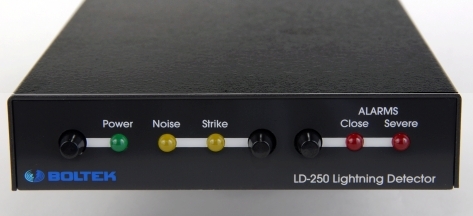 This was bought on the 23 May 13 from Skyview Systems, service and speed of delivery was excellent, the LD-250 comes with a basic lightning software called nexstorm lite, it is possible to make your own maps for displaying within nexstorm, but I decided to buy the AST-Map which is the CVM software centered on your exact lat and long coordinates.
The LD-250 is powered by 12vDC from a wall wart type power supply unit, the other connections in use at the rear are a serial lead directly into the RS232 serial card of the PC, a separate ground connection to a good earth point (I used a mains plug with only the earth connected in a socket) and the antenna in cable.
The setup was straightforward and the installation of the CVM map was also painless, the antenna had to go outside as their was just far too much interference inside the house, once outside I could reduce the squelch setting to zero from 14 and this is how it has stayed, detection range when compared with Blitzortung is slightly out, but fortunately the software allows for sector adjustments which is something I tweaking with now which looks like it's going to take a little while to get anywhere near accurate.
The data from the Boltek is broadcast to Strikelink by StrikeStar EU as well as being displayed via Weather Display on Weather Display Live.